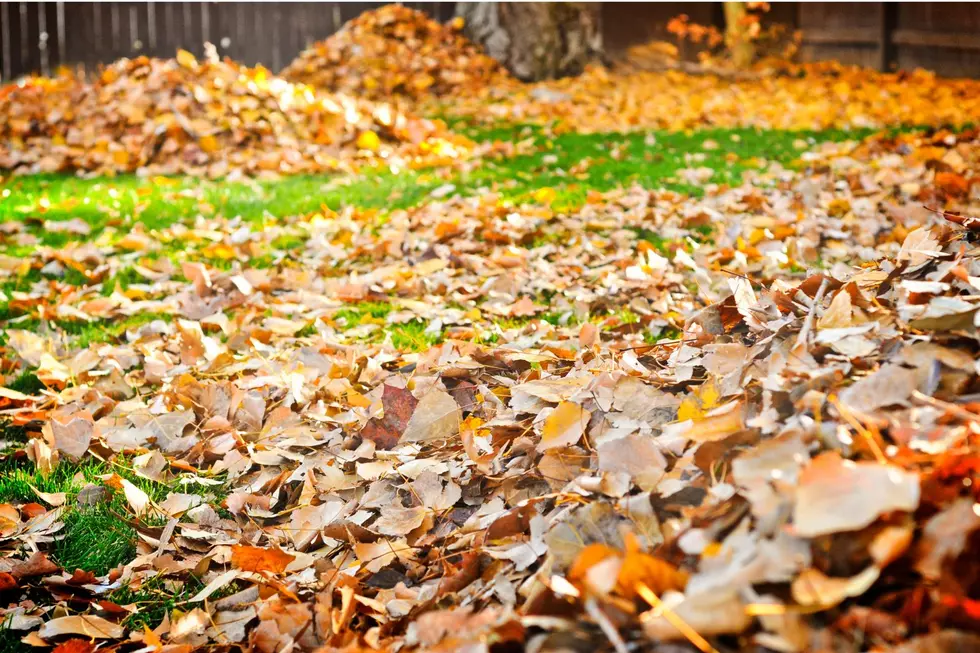 Why You Shouldn't Bag Up Leaves This Year In The Hudson Valley
Canva
Experts have given two great reasons why you can skip bagging leaves this year.
You already know that this time of the year in the Hudson Valley is gorgeous!! We are lucky enough to have some of the best fall foliage anywhere. No matter where you live we are surrounded by some of the best and brightest fall colors.
Just the other day I was driving from Poughkeepsie to New Paltz and was mesmerized by the yellows, reds, and oranges that I saw on some of the mountains. It was beautiful!! Yes, the leaves can be beautiful but as they turn colors that also means they are getting close to falling off the trees and that can be a "stressor" for some, especially if it's your job to rake and bag them up every year. If you are responsible for the fall cleanup every year at your house this just might be the news you've been waiting for!!
Why You Shouldn't Bag Leaves This Year
Personally, I know that this is definitely news that many of us are very excited to hear. According to NPR, outdoor experts have announced that as the leaves drop this year, instead of raking them and bagging them to throw out, they say it's better to leave them on the ground. Why?
#1 Reason to Leave Leaves on the Ground
The number one reason to leave the leaves on the ground is that experts say once the leaves are bagged up and taken away by the garbage man they wind up in landfills. They say that every year somewhere around 8 million tons of leaves end up in landfills.
#2 Reason to Leave Leaves on the Ground
Experts say it's simple!!! Leaving them on the ground means they will help the grass. No really!! Leaves have all kinds of nutrients, including nitrogen, phosphorus, and potassium that are extremely beneficial to grass. Experts did warn that before everyone stops cleaning up leaves in their neighborhood they are reminding everyone that some maintenance is still required.
To take full advantage of the fallen leaves in your yard experts say that the best thing you can do is to take your lawnmower and drive it over a thin layer of leaves so that they get chopped up. Chopped-up leaves left on grass are good for it but thick layers of leaves are BAD for the grass according to Susan Barton, a professor and extension specialist in landscape horticulture at the University of Delaware.
Barton said, "If you just leave the leaves on the grass, it will exclude light. And then the grass won't be able to photosynthesize. Eventually, it would die under a thick layer of leaves".
If you plan on skipping the leaf clean-up in your yard this year experts would like to remind people who l I've in neighborhoods with sewers and drainage systems that leaves can clog them up so always make sure that the drainage areas are kept clear of leaves to avoid any flooding issues.
New York Fall Foliage Map 2022
Timing is everything if you want to do some leaf peeping. This is what you can expect in New York State and the entire Northeast for Fall 2022.
Scenes of Fall Foliage at Gertrude's Nose in Kerhonkson, NY
Check out the bright yellows, oranges, and deep reds peeping through at Lake Minnewaska and Gertrude's Nose.
More From WZAD-WCZX The Wolf