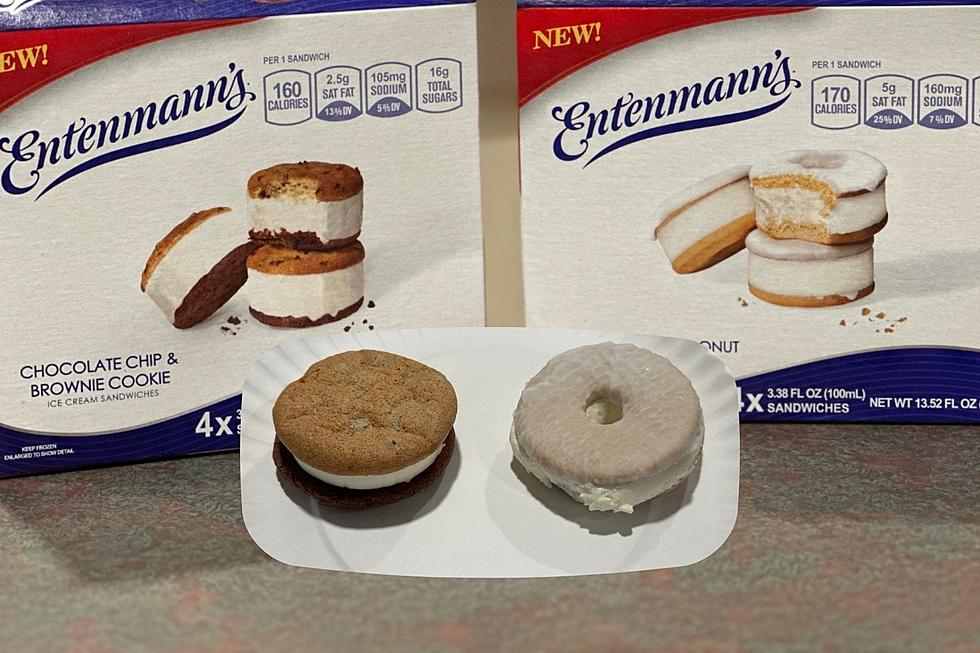 We Tried Entenmann's New Ice Cream Sandwiches and Have Thoughts
A. Boris
Entenmann's surprised New York shoppers by dropping a brand-new product this month. But are they really as good as they sound?
Last week, shoppers in the Hudson Valley were stunned to find out that Entenmann's had quietly released its own line of ice cream sandwiches. Exclusively available at Walmart locations, the new product comes in six different varieties including brownie cookie salted caramel; chocolate chip cookie; chocolate chip and brownie cookie; chocolatey glazed cookie donut chocolate; chocolatey glazed cookie donut salted caramel; and glazed cookie donut.
Being huge Entenmann's lovers, we were cautiously optimistic about the prospect of an ice cream sandwich made by the bakery. Many times products will lend their brand name to an ice cream maker that creates novelties "based on" its flavor that tastes nothing like the original. Would this truly be an Entenmann's ice cream sandwich or something that was nothing like the baked treats we're used to?
Because the treats have been quickly selling out, we were only able to get our hands on two of the varieties. We sampled the chocolate chip and brownie cookie sandwiches and the glazed cookie donut sandwiches.
Chocolate Chip and Brownie Cookie Sandwiches
After unwrapping the first sandwich we were pleasantly surprised to find out that the cookies on either side appeared to be actual authentic Entenmann's cookies, not something created just for this treat. The cookies were extremely soft, even though they came right out of the freezer.
As for the taste, these are everything you'd expect and more. The cookies tasted just as they do out of the box and the ice cream was your average vanilla. I will note that the two cookies together were extremely sweet, completely overpowering the vanilla ice cream but that's not necessarily a bad thing. These cookies got thumbs up across the board from our taste testers.
Glazed Cookie Donut Sandwiches
We were slightly disappointed that the chocolate donut sandwiches were all sold out, as Entenmann's chocolate frosted donuts are our favorite. Instead, we opted for the vanilla version.
Unlike the other sandwich, this one contains a cookie especially made for the ice cream treat. Because using an actual donut isn't practical, a hard cookie with donut glaze on top is used to mimic the iconic treat. The bottom is a much softer cookie, which makes eating the sandwich a bit less pleasant. The hard cookie on top is very difficult to break apart, making for a big mess as the rest of the sandwich squishes out of the side with each bite.
As for the flavor, we were unable to recognize any donut notes. Instead, the top cookie tasted more like a sugar cone. The waffle-like flavor was pretty delicious, even though it didn't resemble a donut at all. Those looking for a donut sandwich will probably be disappointed, but it was still pretty delicious.
All in all, we highly recommend the chocolate chip and brownie cookie versions of these sandwiches. While the "donut" version was nothing like an actual donut, it was still delicious and something I'd buy again. I'm still very interested in the chocolate version and will continue to stalk the frozen food section until it finally is back in stock.
The Entenmann's ice cream sandwiches are currently only available at Walmart locations in New York state.
See How School Cafeteria Meals Have Changed Over the Past 100 Years
Using government and news reports,
Stacker
has traced the history of cafeteria meals from their inception to the present day, with data from news and government reports. Read on to see how various legal acts, food trends, and budget cuts have changed what kids are getting on their trays.
Over 100 'Fun Facts' About The Hudson Valley
Did you know that Lucille Ball made her stage debut in the Hudson Valley? How about Philadelphia Cream Cheese wasn't invented in Philadelphia, but in Orange County? Or that a mansion in Dutchess County inspired the expression "keeping up with the Joneses?" Find out about those and over 100 other fun facts about the Hudson Valley.
More From WZAD-WCZX The Wolf