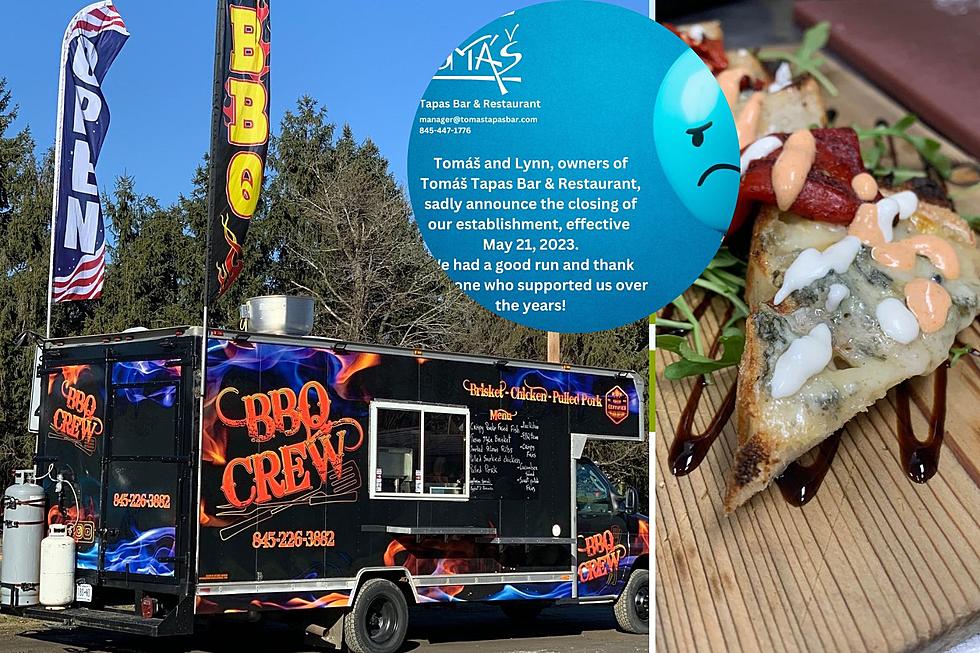 Tomáš Tapas Bar Announces May Closure, Food Truck To Continue
Tomáš Tapas Bar & Restaurant, canva
A sad announcement over the weekend regarding the closure of a well-loved Wappingers Falls bar and restaurant shocked many across the Hudson Valley, prompting an outpouring of well-wishes on social media.
Bringing their eclectic menu to Wappingers Falls a little over a decade ago, Tomáš Tapas Bar & Restaurant has been named winner of the Hudson Valley's best tapas for a number of years, and now you have a limited amount of time to get your tapas fill before they close for good on May 21st.
Tomáš Tapas Bar & Restaurant Wappingers To Close May 21st
A Facebook post on Sunday, April 23rd garnered a great deal of attention from the Hudson Valley upon learning the news that Tomáš Tapas Bar & Restaurant would be closing come May.
The initial post, with the caption simply stating It is time ... was followed up with a lengthy and sentimental letter penned by owners Tomáš and Lynn regarding what is next for them, along with a long list of special thank you messages to those who have supported them through the years.
We have had a good run - almost 11 years - with many ups and downs along the way. During that journey, we have met the most amazing people and made new friends.
Though the storefront bar and restaurant located on Rt. 376 in Wappingers Falls will be closing come May 21st, their BBQ Crew food truck will continue to serve the Hudson Valley, as Tomáš himself shared with us, 'the food truck is my future.'
READ MORE:
Tomáš Tapas Bar & Restaurant History
In speaking with Tomáš after the announcement came out about the restaurant's closure, he shared that the food truck is going like a wildfire...
...crazy, any feedback is absolutely phenomenal. The hours with the food truck are better, allowing my wife and I to actually have some time together and do things ourselves.
Tomáš came to the U.S. in 1994 with just two suitcases, arriving at JFK airport with no place in particular to go.  He took the cheapest transportation, stayed in the cheapest hotel he could find in NYC walking up and down the streets looking for a job.
Leaving his family and friends behind in Czechoslovakia, he told them all he was coming to America and he was going to make it - and he certainly did.
Thank you to all customers, friends and employees for all the positive feedback, support, believing in us and sticking with us throughout the life of the restaurant, good times, pandemic and recession.
Be sure to follow the BBQ Crew Food Truck here to find out where to catch Tomáš in the future!
Hudson Valley Says Goodbye To Over 100 Businesses
Sneak Peek: Hudson Valley's Newest Eating, Drinking Destination Opens
More From WZAD-WCZX The Wolf