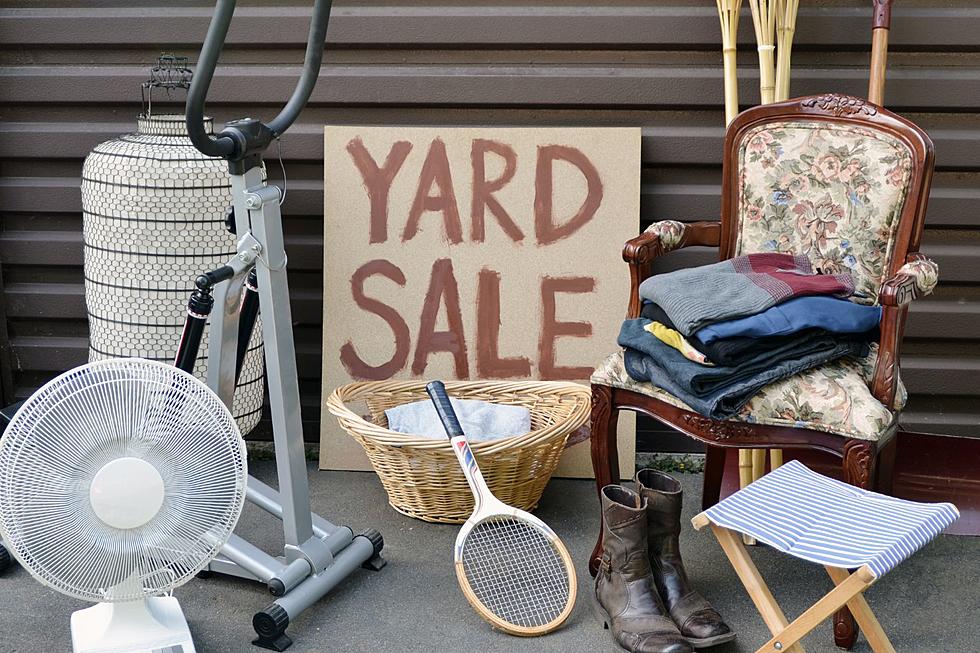 The Hudson Valley's Biggest Yard Sale Is Coming Soon
Canva
It's the Hudson Valley's "Ultimate Family Yard Sale", here's how and when YOU can buy or sell hundreds of items.
The warmer months bring many things most of us love to do!! We love BBQs, swimming, and fire pits, and it's also lighter longer, which means we can spend more time doing things outside which is one of our favorite things, but nothing is more fun to do this time of year in the Hudson Valley then going to yard sales.
Yard Sale Signs
You might have already noticed those homemade signs popping up in your neighborhood letting everyone know that a yard sale is happening this weekend at an address near where the sign is posted. Neighborhood yard sales are a popular activity for many but if you're like me and would rather go to one BIG yard sale than have to drive from neighborhood to neighborhood we have found what some are calling the Ultimate Family Yard Sale!!
Hudson Valley's Ultimate Family Yard Sale
The folks at Stormville Airport have announced that they are currently accepting applications for the BIGGEST yard sale anywhere! The Ultimate Family Yard Sale is set to take place on Saturday, June 17th at the Stormville Airport located at 428 Route 216, Stormville, NY. The yard sale is open from 8 a.m. - 4 p.m. rain or shine and is FREE to get in and will feature hundreds of items available for sale from families across the Hudson Valley.
Have Stuff You'd Like to Sell at the Yard Sale?
If you are looking for a prime location to sell some of the things that have been accumulating at your house or apartment over the years but don't have a yard or location that would be good for a yard sale we have great news! The Stormville Airport's Ultimate Family Yard Sale is currently accepting applications from anyone that is interested in selling any of their things,
"Applications for the Stormville Airport's Ultimate Family Yard Sale on June 17th are available. Start cleaning out your house and come sell your unwanted items. We provide the space, advertising, and customers!"
For more information about the Ultimate Family Yard Sale check them out online here, you can also call 845-226-1660 for application information.
12 of the Hudson Valley's Favorite Places for Breakfast
12 of the best places to grab breakfast according to Hudson Valley "Foodies".
15 of the Hudson Valleys Favorite Places for Lunch
Some of the Hudson Valley's favorite places to have lunch.
More From WZAD-WCZX The Wolf