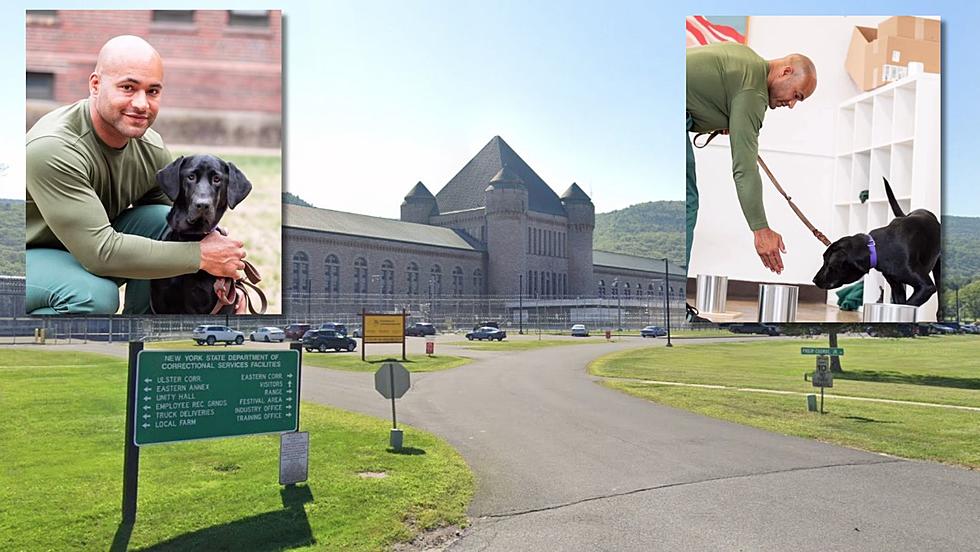 Puppies Behind Bars Pairs Dogs with Inmates at Napanoch, NY Prison
The Dogist, Instagram/Google Maps
These might be the cutest inmates ever. We're talking about a group of puppies who have found themselves behind bars in the Hudson Valley, all for a good cause.
These puppies are part of a program called Puppies Behind Bars. You may remember a few weeks ago when we shared the story of popular dog influencer The Dogist visiting Fishkill Correctional Facility in Beacon, New York as a group of puppies were handed off to inmates.
With Puppies Behind Bars, incarcerated individuals can learn how to train the dogs and then raise them to become "working service dogs for war veterans and first responders, facility dogs for police departments, and explosive-detection canines (EDCs) for law enforcement."
The puppies are introduced to their raisers when they are about 8 weeks old and stay with them until they are 2 years old when they are old enough to work.
Jackson The Pup at Napanoch Correctional Facility
Puppies Behind Bars is based out of New York so it makes sense that many of the puppies in their program go to local prisons. Last time around it was Fishkill Correctional Facility. This time The Dogist meets up with Jackson the pup, and his raiser Provard who is currently incarcerated at Napanoch Correctional Facility in Ulster County.
We learn that Provard has been in the prison system for over 2 decades and is hoping to squash the stereotype you may be thinking about him and others who are in jail. Provard tells The Dogist why he wanted to work with the Puppies Behind Bars program while at Napanoch Correctional Facility and he said:
I wanted to be able to give back in the sense of doing something that's not self-serving. I've been doing college and other programs in prison, but those only benefit me. To take care of another life, it's the biggest responsibility, and I take it as an honor.
Provard goes on to say that having Jackson with him also helps fight depression and gives himself and others behind bars to receive and give love:
There's no way you can successfully raise one of these puppies without allowing yourself to love them, and to receive that love. In this way I can do something for society that I betrayed when I committed my crimes. The guys in this program feel the same way as far as being happy to be trusted again, and I would hope that anyone who can keep Puppies Behind Bars going would extend themselves and do that."
You can learn more about and the work they are doing together below:
The Dogist Helps PBB Raise Over $30,000
When The Dogist shared Jackson and Provard's story they were on the hunt to raise $30,000 for Puppies Behind Bars and as of this week, they have far surpassed the goal. 100% of the proceeds will go to PBB and will be used to "help them continue their mission of training incarcerated individuals to raise service, facility, and explosive-detection canines" according to The Dogist.
The money raised will also be used for the costs of veterinarian care, dog food, bowls, toys, leashes, crates, other supplies, and training. If you or someone you know is interested in working with Puppies Behind Bars you can learn more about the program below or on their website PuppiesBehindBars.com
Hudson Valley Dog Day Date
Treats are cool, but have you ever spent the whole day with your pup exploring the Hudson Valley? Check out these 10 places to take your pup on a cute dog date!
15 Dog-Friendly Winery and Cideries in the Hudson Valley
There's nothing more relaxing than enjoying a glass of your favorite wine with your best friend by your side. Check out these 15 dog-friendly wineries and cideries across the Hudson Valley.
10 of The Top Rated Dog Parks Across the Hudson Valley
Looking for a change of scenery with your pup? Check one of these top-rated dog parks located right here in the Hudson Valley according to Google Reviews.
More From WZAD-WCZX The Wolf