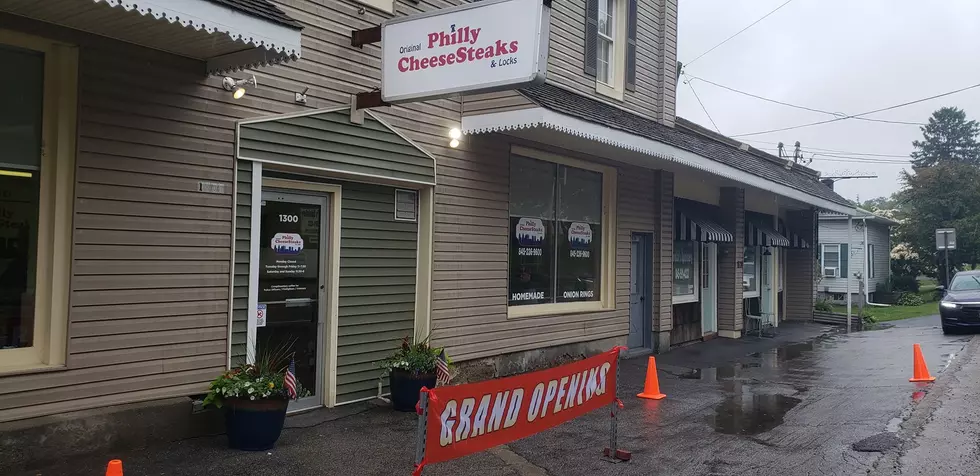 Philly Native Opens Up Philly Cheesesteak Eatery in Hudson Valley
B Welb
A Philadelphia native is sharing his original Philly cheesesteak recipe with the Hudson Valley while offering daily freebies for veterans and first responders.
On Tuesday, Original Philly Cheesesteaks & Locks opened at 1300 Route 9W in Marlboro.
Chaz Goodman, the owner of Original Philly Cheesesteaks & Locks, now calls the Hudson Valley home but he's originally from Philadelphia. He went to school for nutrition and has worked in the nutrition and fitness business as well as at Friendly Honda in Poughkeepsie.
But he says, he's always had a dream to open up a food business. Ideally a food truck. Recently, his son revitalized his dream and soon the idea of a food truck in the area transformed into a restaurant.
Goodman says he was looking for a place in Dutchess County or Newburgh, but when driving to Newburgh, he saw a space open in Marlboro right on 9W. He realized anyone who drives on Route 9W from Orange County to Ulster or Dutchess County, or the other way around, passes the spot, near the Marlboro Free Library, Raccoon Saloon, The Falcon and more.
When he looked inside he knew the place would be the perfect spot for him to share his original Philly cheesesteak recipe with the Hudson Valley.
"Everywhere I've been, I couldn't find a good Philly Cheesesteak," Goodman told Hudson Valley Post about why he wanted to open up a Philly cheesesteak business.
While he wouldn't give away the secret to his "original" recipe, he says it's a recipe he learned while living in Philadelphia and perfected over the years.
The restaurant also sells burgers, wings on Wednesdays, hand-cut french fries and "homemade" onion rings. Naturally, the french fries and onion rings come with a side of cheese sauce.
The business also has a coffee station, but coffee isn't for sale. Fresh coffee is available for free every day for first responders and veterans. Goodman says it's his little way of giving back.
Original Philly Cheesesteaks & Locks is open Tuesday-Friday from 11 a.m. until 7:30 p.m. as well as Saturday and Sundays from 11:30 a.m. until 6 p.m. There's also a kids station for children to play.
More From WZAD-WCZX The Wolf