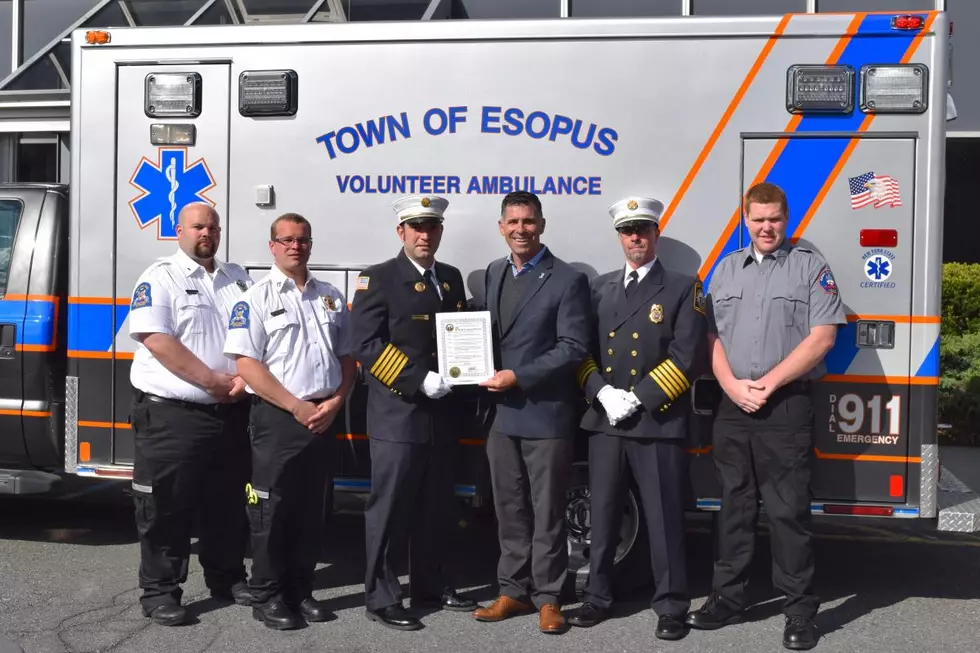 National EMS Week in the Hudson Valley
photo courtesy of the Office of the Ulster County Executive
They show up, often times, in the worst of situations. They provide comfort, care, and lifesaving services. We owe them so much, yet their names aren't splashed across the headlines. You could pass them at a grocery store, in the mall, or at your kid's soccer game, and not realize you've just walked past a hero.
EMTs, or emergency medical technicians, are invaluable to our communities here in the Hudson Valley. These individuals have undergone countless hours of training and certification. They are first on the scene to provide basic or, if needed, advanced medical care. Many of us owe our lives to an EMT.
Ulster County Executive Mike Hein has proclaimed this week as National Emergency Medical Services Week in Ulster County and joins the National Association of Emergency Medical Technicians (NAEMT) in celebrating the 42nd National EMS Week.
EMS week brings together local communities and medical personnel to honor the dedication of those who provide lifesaving services to our communities. This year's National EMS Week theme is 'Called to Care', and signifies the commitment of EMS practitioners to providing service and answering the call of a career that demands passion and purpose, day in and day out.
During this week, this year's Ulster County EMS Award recipients will be honored at a dinner on Friday night. Those to be recognized include:
BLS Provider of the Year: John Rushkoski, Woodstock FD Company 5
ALS Provider of the Year: Kevin McGrath, Ellenville Rescue Squad
EMS Agency of the Year: Ulster Hose Co #5
EMS Leadership: Mathew E. Molinaro, Ulster Hose Co #5
EMS Communications: Robin Vanderley, Ulster County Emergency Com Ctr
Nurse of Excellence:Rondine Cattell, HAHV Broadway Campus
Nurse of Excellence: Evan Hampel, Ellenville Regional Hospital
Life Time Achievement:Peggy Vitarius, HAHV Broadway Campus/Shandaken Ambulance
Physician of Excellence: Amy Gutman, MD, HAHV Broadway Campus
Physician Assistant: Shane Wible, PA, Ellenville Regional Hospital
If you see any of these individuals, congratulate them and thank them for all they do to keep us safe.
More From WZAD-WCZX The Wolf