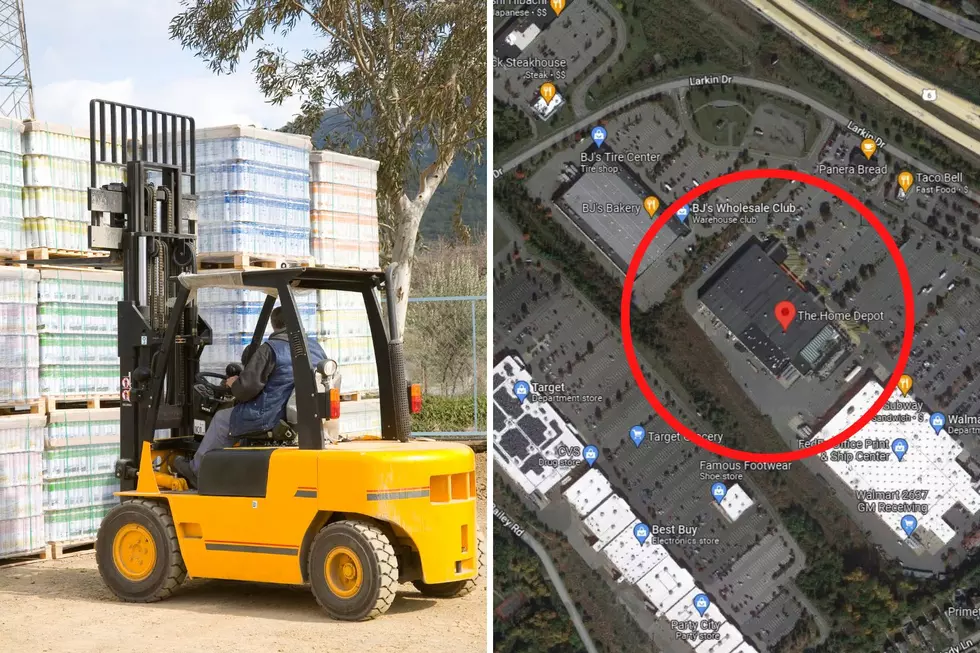 Monroe Home Depot Worker gets Trapped Under Forklift, Seriously Injured
Google Maps/Canva
The employee was reportedly pinned underneath the rear of a forklift early Tuesday morning.
According to multiple responders, a worker at the Orange County Home Depot suffered serious injuries after they were trapped under a forklift. The accident took place at the Monroe Home Depot located at 254 Larkin Drive in Monroe, New York around 1 a.m. Tuesday morning September 20th according to the Daily Voice.
Hudson Valley Worker Trapped
Numerous first responders arrived on the scene with the Monroe Fire District Chief Rich Lenahan telling the Daily Voice that his department responded to the store after being notified that a worker was trapped. When they arrived on the scene Lenahan said they joined the New York State Troopers, who were already on scene administering care to the Home Depot employee who was trapped under the rear portion of a forklift.
Successful Rescue
Responders didn't say how long the person was trapped underneath the forklift but Chief Lenahan did say that his department along with, NYS Troopers, and Woodbury firefighters "used airbags and cribbing to raise and stabilize the forklift". Once the forklift was stabilized rescuers were able to extricate the person from under the forklift.
Once the employee was freed from under the forklift Monore firefighters along with EMS, safely moved the injured person to an ambulance which then transported them to a local hospital's emergency room. The condition of the injured worker is unknown at this time but when more information is available we will update this article.
Another example of Hudson Valley first responders all working together to get the job done! Well done friends!
26 Highest Paying Jobs in New York State
It's getting harder and harder to make ends meet living in New York State. So we researched the 26 highest paying jobs in the state. Hudson Valley Post analyzed the most recent data from the
U.S. Bureau of Labor Statistics
to craft our list.
25 'Safest' Hometowns in New York State
More From WZAD-WCZX The Wolf