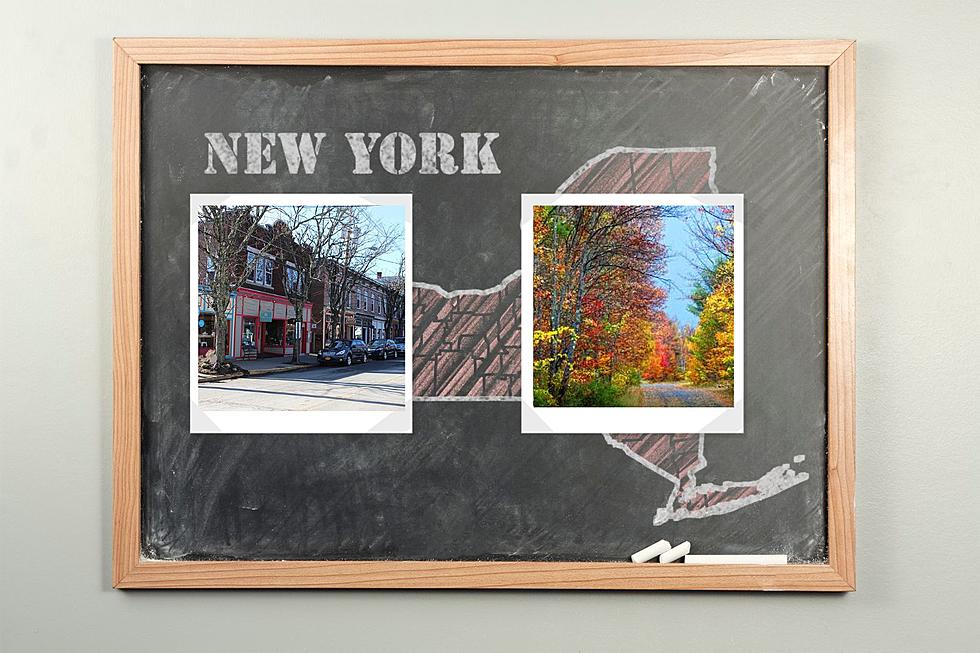 2 of 10 Coolest New York Small Towns With Big City Feel
Credit - Denis Tangney/Getty Images/Don Gehring/TSM
Want the big city feel without all the bright lights, traffic jams, noise, and throngs of people? There are two small towns in New York with a big city feel you can enjoy for your next getaway.
The Travel lists 10 of the coolest towns in the U.S. that feel like you're in the big city and two of them are in New York.
#5 Lake Placid, New York
Lake Placid, New York comes in as the 5th coolest town with a big city feel. And it's not even a town. It's a village with a population of only 2,500, but thousands of tourists flock to the area in the Adirondacks to enjoy its charm. Most come during the winter months for skiing on Whiteface Mountain.
Lake Placid is a popular lake town and tourist destination with a history of hosting international sporting events, including the Winter Olympics and numerous other national and international events in skiing, ice skating, and other sports.
Lake Placid is home to the Miracle on Ice. Canada beat Russia to advance to the Gold Medal round in the 1980 Olympics. Many saw it live. Many more watched the Disney movie.
More than Just Sports
It's not just sports enthusiasts who travel from miles around to vacation in Lake Placid either. The village is filled with culture too. It's also home to some of the best fall foliage in the country.
Additionally, the town has a lively urban vibe with numerous restaurants, a hospital, an airport, and several cultural attractions, including museums, performing arts centers, and art galleries.
#2 Rhinebeck, New York
Rhinebeck, New York is the second coolest town in America. It's only a few hours north of New York City, making it a popular weekend destination for anyone wanting to get out of the Big Apple.
Rhinebeck has various historical and cultural attractions, including the Old Rhinebeck Aerodrome, featuring vintage planes, a museum of aviation history, and a number of historic sites, such as the Beekman Arms, one of the oldest inns in America.
Charm, Culture & Celebrities
The Hudson Valley town was named one of the most charming towns in America in 2021 and is among the safest places to live.
The town has a vibrant arts and entertainment scene, with numerous theaters and performance spaces, hosting concerts, plays, and other events throughout the year, featuring a unique blend of small-town charm and an elite city vibe.
Celeb Shop
Rhinebeck is also home to Samuel's Sweet Shop, a candy store owned by actors Paul Rudd and Jeffrey Dean Morgan, both who have been known to show up for a shift or two.
Read More: Rub Elbows With the Stars at 9 Celebrity-Owned Businesses in NY
The Coolest Town of Them All
Where's the coolest town of all? In Abingdon, Virginia. You can see all 10 of the coolest US towns at Thetravel.com.
Rub Elbows With the Stars at 8 Celebrity Owned Businesses in New York
A number of celebrities call Upstate New York home. A small few not only own homes but businesses too. You may even run into them when you stop by for a sweet treat, overnight stay or soft skin.
Top 7 Most Redneck Towns In Central New York
Some people may see the term "redneck" as a derogatory term. In these towns... it's a sense of pride.
13 Worst Places to Live in New York State
From high crime and unemployment rates to a lack of entertainment, here are the 13 worst places to live in New York state, according to
Moneyinc.com
.
More From WZAD-WCZX The Wolf