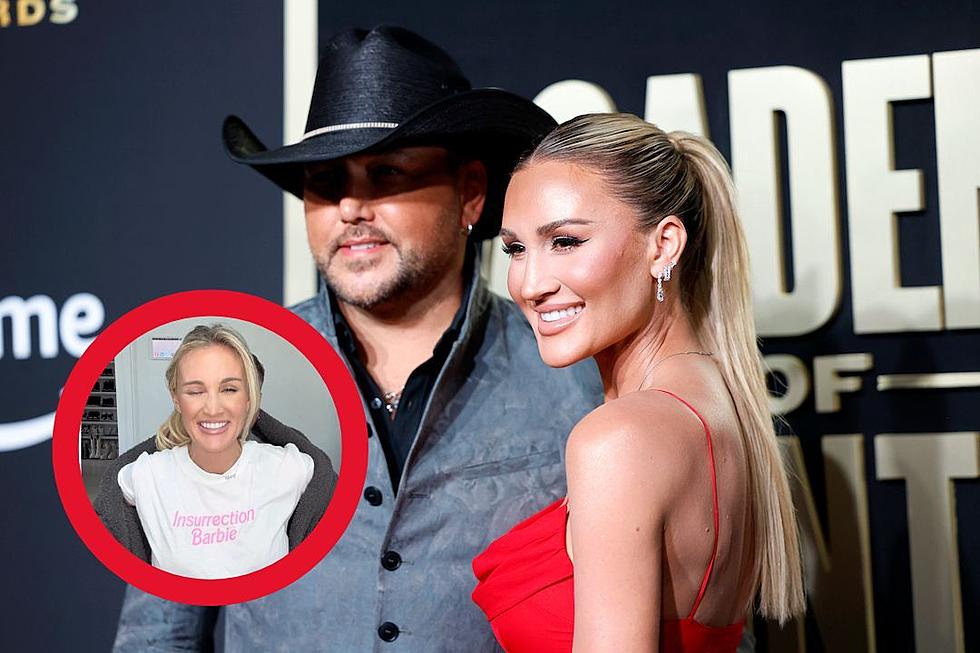 Jason Aldean Does His Wife's Makeup Blind, With Hilariously Chaotic Results [Watch]
Jason Kempin, Getty Images
Jason Aldean and his wife Brittany are known for trying viral social media trends to entertain fans, and on Tuesday (June 20), the country star couple were at it again with a hilarious "makeup tutorial" that features Aldean doing his wife's makeup — without ever looking at her face.
In the clip, Brittany puts her hands behind her back, while Aldean sits behind her, threading his arms through the sleeve of her jacket to make it look like she's the one applying makeup. With no way to see his work, he has only his wife's direction to go on.
First, Brittany guides Aldean through pulling her hair up into a ponytail. A few snafus aside, that part of the process is actually relatively successful — but it all goes downhill from there, when he starts reaching for products.
"We are just gonna skip foundation today. We are just gonna go for some powder," Brittany says, as Aldean's hand grope around off-camera looking for the right brush. He then starts to dot it around her face as she narrates: "Yep, I do like it when it's right around my eyes. Sometimes in my mouth."
Things don't improve from there: Aldean applies blush as eyeshadow and eyeshadow underneath his wife's eyes instead of on the lids.
"It's called creativity," Brittany explains with a giggle.
But the most epic makeup fail comes at the very end, when it's time to apply color to her lips — and Aldean misses her mouth entirely, instead applying the gloss across her chin.
As Brittany puts it in the caption of her post, it's "the makeup look you didn't know you needed."
When they're not sharing hilarious beauty tips, the Aldeans often offer glimpses into their life at home with their two young children, Memphis and Navy. Most recently, the couple gave fans a peek into their luxurious trip to the Caribbean.
Inside Jason Aldean's Spectacular Florida Beach House:
More From WZAD-WCZX The Wolf