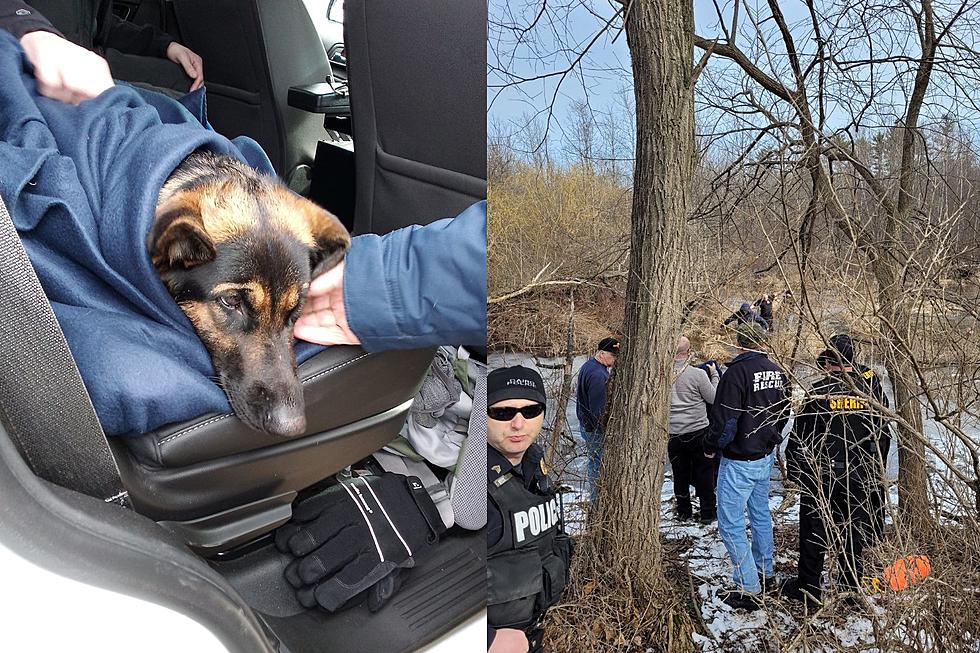 Upper Hudson Valley 1st Responders Save Dog Stuck in New York Pond
Town of Cairo New York Police Department/Facebook
An off-duty sheriff deputy and local fireman jumped into action to try and save a dog that was stuck in the water.
It was early Friday morning March 3rd in the Greene County town of Cairo when Greene County 911 received a call that reported a dog was stuck in a pond. 911 passed the call along to the folks at the Cario Police Department and as they arrived on the scene, they discovered a couple of heroes at work.
Dog Stuck in Pond in Cario, New York
As police arrived, it was discovered that a man named Erik Benoit was walking near the water when he heard a dog yelping. He was the first on the scene.
Benoit told police that he walked thru the ice and water to try and free the dog but was unable to and needed help. While Benoit waited, not only was he able to assist the dog by holding his head above the water, but he was also able to see that the dog was stuck in the water tangled in the thick brush under a rotten tree in the water according to police.
Pup Saved in Cairo
As more help arrived, Cairo Fireman Eric Hepperle and off-duty Greene County Sheriff's Sergeant Joe Feml entered the icy water and were able to free the dog and get her to the paramedic's vehicle Medic 7 to receive special treatment.
After investigating, police did say that the dog, identified as "Miss Daisy," was reported missing from a nearby home the night before and is said to be from a good home. Cairo police thanked the three men who helped in saving her and the folks at Cairo Fire, on-duty Greene Paramedics, NYSP, Animal Control, and the Greene County Sheriff's Office for their assistance.
Miss Daisy's Family Shares an Update
After Miss Daiay received the care she needed she returned to her family and they shared an update on Facebook saying,
"Thank You so much to Every Agency Involved, Every off duty officer, And selfless good samaritan. You all have no idea how happy you made 3 little boys and Their parents! Miss Daisy is one lucky girl My young grandsons were out searching for her in the woods for hours! Jess, Ray, Raymond, Alex, & Noah are so grateful to all of you! Daisy was also reunited with her sister Zoey They asked me to share that Daisy is doing great & is so happy to be home, safe and warm Thanks to all of you!! Thank You Again!! ❤️"
Meet The Pups Who Have Been at the Dutchess County SPCA for Over 400 Days
Looking to add a furry friend to your family? Meet these adorable rescues who are looking for their FURever home.
12 of the Hudson Valley's Favorite Florists
12 Hudson Valley florists that are sure to make buying flowers easy.
More From WZAD-WCZX The Wolf