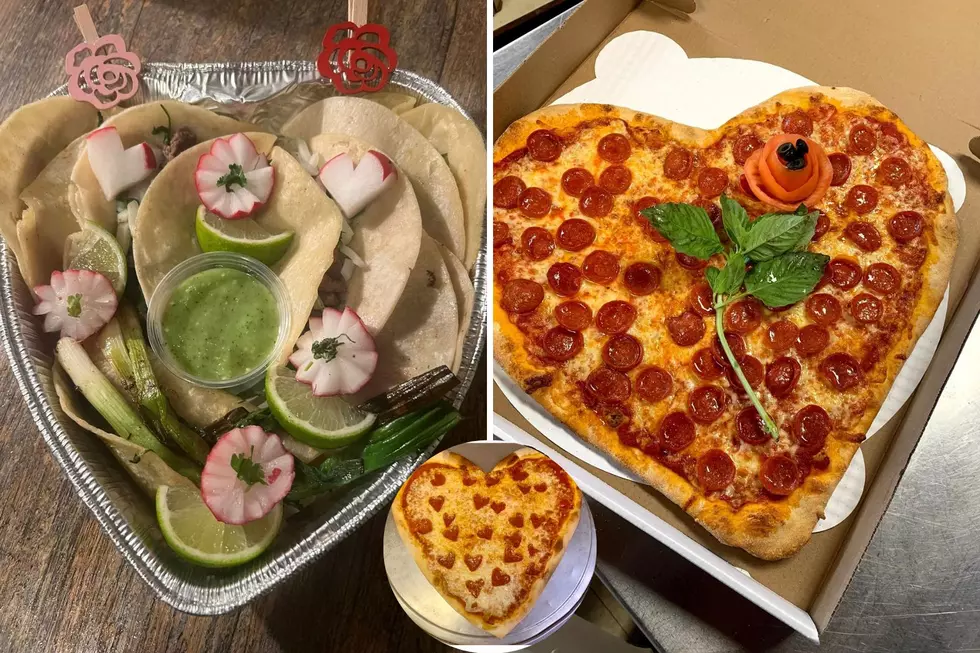 Heart Shaped Snacks for Hudson Valley Foodies on Valentine's Day
Cascarino's Pizza, Aliano's Pizza, Titi Taco
When the moon hits your eye, like a heart shaped pizza pie, that's amore...
Oh those aren't the lyrics?
When it comes to celebrating Valentine's Day in the Hudson Valley, there are obviously plenty of directions you might go.
Fancy dinners, flower deliveries, jewelry and candy - the whole "typical" v-day experience that can likely be pretty costly.
Or....
Ordering a heart shaped pizza, or heart shaped box (cue the Nirvana) of tacos and empanadas for the family, and winning Valentine's Day, score.
There's been a lot of chatter in the local community social media groups asking for heart shaped food suggestions, so here's a look at some of the local top picks for a lovey-dovey cheesy (in a good way) Valentine's Day meal.
Cascarino's Pizzeria & Ristorante, Montgomery
Family owned and serving the Hudson Valley community for more than 20 years. Not only are Cascarino's in Montgomery offering heart shaped pizza, but also on the Valentine's Day Special menu are heart shaped calzones, heart shaped ravioli alla vodka, and even a pizza lovers kit where you can make your own pie. See the complete list below, or check them out here.
Pacini's Pizza
Based in the Village of Wappingers, Pacini's will once again be making their heart shaped pizzas, with a super sweet story behind the Valentine's meal. Pacini's owner Andrew, who went on a first date with his now wife Caitlin on Valentine's Day years ago, made her a heart shaped pizza, and they have been offering them every year since! You can get more info and if you're like to pre-order for v-day, you can here.
Aliano's Pizza, Hopewell Junction
This appears to be a fan-favorite for locals when it comes to showing that heart shaped pizza love.  Aliano's in Hopewell Junction will once again be offering their heart shaped pizza complete with heart shaped pepperoni.
Ronzoni's Pizza
Located on Violent Avenue in Hyde Park, Ronzoni's Pizza is also giving you a few options for your heart shaped Valentine's Day needs. They've got a special with 2 heart shaped pies, an app, dessert and soda, or, a heart shaped pizza kit for you to do a little make your own action at home.
Pizza & Stuff
Serving the Hudson Valley for nearly 35 years, Pizza & Stuff on Elm Street in Fishkill is once again going to do heart shaped pizza (with toppings, too) to celebrate on 2/14.  They'll be posting pre-order information on their social media a few days in advance, check here for updates!
Emiliano's Pizza
Keeping the Hudson Valley fed on Main Street in Poughkeepsie, Emiliano's is a family owned restaurant with more than 30 years of experience.  They're shaping heart shaped pizza for your valentine, for more information check out their post here.
Katie Rose Bakery
Hopewell Junction based Katie Rose Bakery has all sorts of goodies for your Valentine's Day enjoyment, pizza included. Dinner and dessert taken care of at one spot with adorably decorated cakes, cookies, cupcakes, 'macs,' and plenty of allergy friendly options too. Find out more here.
Titi Tacos
If you're not in the mood for pizza, but would rather some tacos or empanadas to share with your valentine, Titi Tacos, from Robles Catering in Poughkeepsie have a heart shaped tray full of Mexican and Puerto Rican goodies. You can pre order by contacting them here, and best part, they deliver!
Hudson Valley Restaurant Perfect for Your Valentine
Treat your Valentine to a romantic dinner at one of these five unsuspecting Hudson Valley Restaurants. They offer the perfect combination of food and drink with a dining experience that feels intimate. I like to say these places are hiding in plain sight. You know them, you drive by them and now it is time to stop in for a romantic dinner date. From Kingston to Rhinebeck to Cornwall, West Park, and Milton, New York it will be hard to decide you may need to visit all five.
10 Valentine's Day Facts That Will Blow Your Socks Off
More From WZAD-WCZX The Wolf