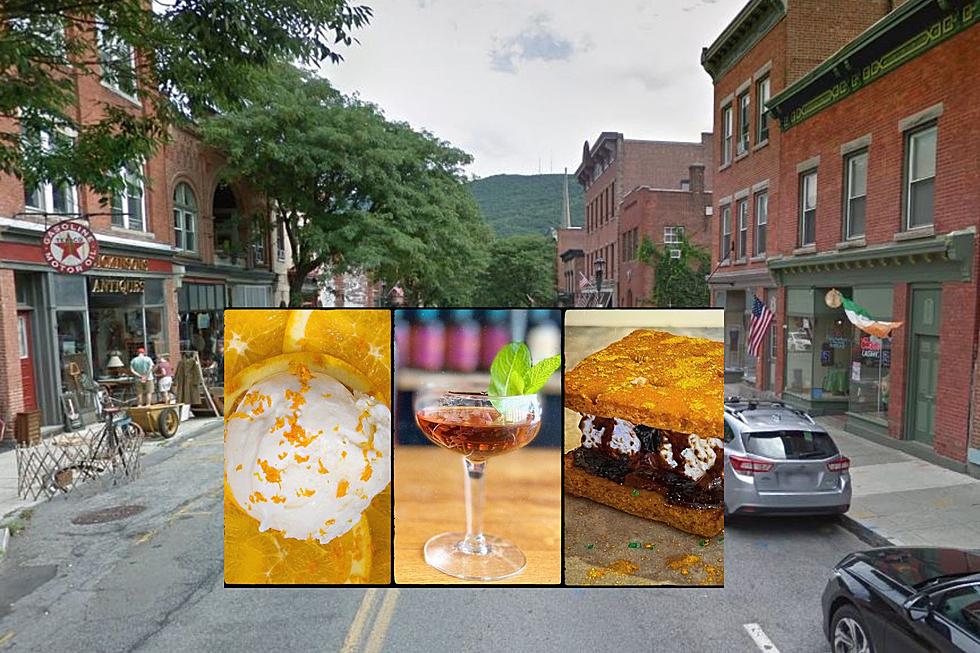 The Beacon New York Food Crawl Returns To Main Street
Canva / Shmucks / Dennings Point Distillery / Hudson Valley Marshmallow via Facebook / Beacon Via Google
I am hoping you are familiar with the term "Crawl" when it comes to taking in fun, food, and more. If you are thinking of your favorite Pub Crawl then we are on the same page. Maybe you are someone who has actually gone as far as participating in a Santa Crawl. Always fun around the holidays.
Crawls are a great format for experiencing all an area has to offer. A Crawl typically means that someone has organized a group of businesses, restaurants, bars, shops, and alike and gotten them all to agree to be part of a trail people will follow to taste, sip and experience what that Crawl has to offer.
Eat Drink Beacon Food Crawl Returns to Beacon, New York
For those of us who are a fan of Beacon, New York, I am about to make your day if you haven't heard already, the Beacon Crawl is back for a second year on June 3rd, 2023 from 3 PM to 7 PM. Last year's event was so awesome it sold out and they are saying that you shouldn't wait to get your tickets for this year which start at $40 because it is expected to once again be a big hit.
Eat Drink Beacon Food Crawl will once again have 20+ Beacon businesses opening their doors to Crawlers. Restaurants, Bars, and Shops will have sips bites, and more for you to enjoy. This crawl is a great time and a great way to sample all that Beacon has going on. Your ticket includes samples, small bites, drinks, and more from many of Beacon's best restaurants and businesses.
What Restaurants and Businesses Will Be Part Eat Drink Beacon Food Crawl
The list is always being updated so
follow them on Facebook
for the most up-to-date information. Some of the places that have already signed on are:
Big Vinny's
  Pizza & Donnoli will be participating. They are located in the heart of Beacon at 207 Main Street Offering NYC-style pizza and their famous Donnolis!
Denning's Point Distillery
 will have its Handcrafted Spirits as part of the crawl. The home of Beacon Bourbon, Beacon Bourbon Cask Strength, and Great 9 Gin made the drink above for this year's Kentucky Derby. The Derby
1oz Beacon Bourbon
1/2 oz Carpano Antica
1/2 oz Orange Curaçao
3/4 Lime Juice
Witch Hazel
 at 176 Main Street Beacon will mix you up something to feel beautiful. Witch Hazel is a modern-day apothecary that taps into the calming beauty of nature.
Shmucks Sweet Stuff
 at 288 Main Street has just extended its hours so you can enjoy more sweet stuff from "Just a Couple of Shmuck's Serving Local Shcoops"
There will be entertainment announced soon. The entire Crawl is just up the hill from the train station. It all happens rain or shine so dress for the weather.
Tickets are on sale now.
Newburgh Offers Waterfront Restaurants with a View of Beacon, New York
Newburgh New York Water Front Restaurants
It has boats. It has entertainment and boy does it have an amazing selection of food and drink. Take in the beautiful Newburgh Waterfront on the historic Hudson River while enjoying top-shelf food and drink. Fine and casual dining with a backdrop of the Hudson River from the Newburgh Beacon Bridge to the north and Bannerman's castle to the south. Watch the river and the boats go by while enjoying every type of food you can imagine from pizza to seafood to steaks to barbeques even tacos you can have it all at these Newburgh Waterfront restaurants.
Looking for the Hudson Valley Restaurants with Great Steaks
Steak Dinner Restaurants in the Hudson Valley
Sometimes you just want to go out for a steak and there are so many great places to do that in the Hudson Valley. Check out this Hudson Valley Steak Restaurant Trail I put together for you. It will be delicious fun to work your way from Kingston to Rhinebeck then down to Beacon and over Newburgh then back up the road to New Paltz. Delicious steaks with mouthwatering sides await you at these wonderful Hudson Valley restaurants that serve steak.
More From WZAD-WCZX The Wolf