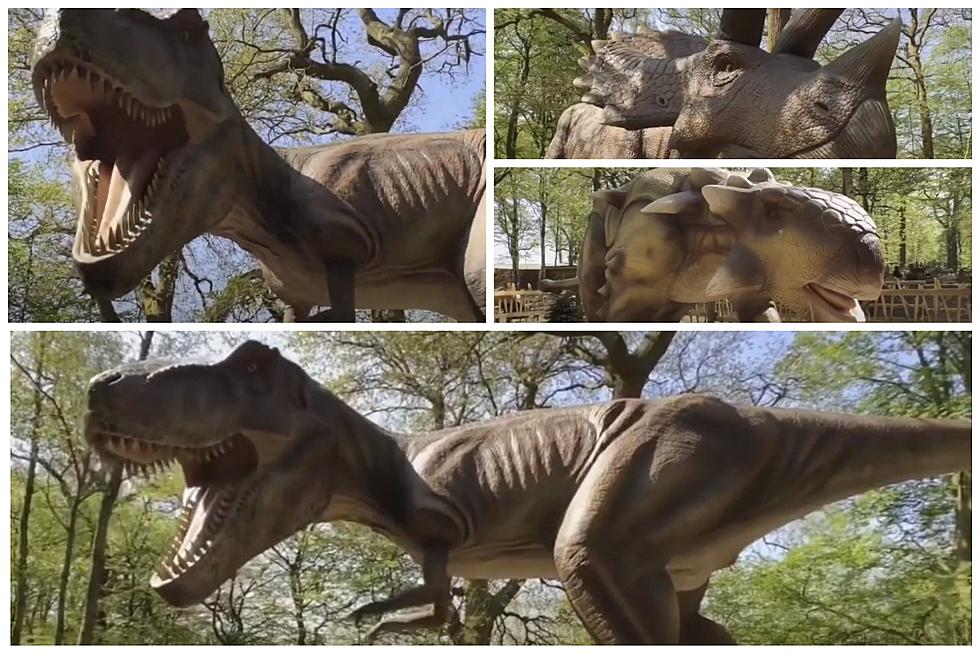 Massive 'World-Class' Dinosaur Theme Park Planned For Hudson Valley
Orange County Gov
Another Hudson Valley hometown is in the running to be the site of a massive world-class dinosaur theme park.
On Monday, Orange County officials confirmed some exciting news. A Dinosaur park should soon be built in Orange County.
Orange County, New York Moves Closer to Becoming Site of Dinosaur Park
Massive World-Class Dinosaur Theme Park Planned For Hudson Valley
Another Hudson Valley hometown is in the running to be the site of a massive world-class dinosaur theme park.
For all the news that the Hudson Valley is sharing make sure to follow Hudson Valley Post on Facebook, download the Hudson Valley Post Mobile App and sign up for the Hudson Valley Post Newsletter.
Officials say the theme park fits perfectly with Orange County's history.
"The park's theme is in keeping with the county's rich history of paleontology. Thirty-eight mastodon skeletons have been found in Orange County since 1780. The first fully-intact mastodon skeleton was discovered and exhumed in Montgomery in 1801," officials note.
Features Of The Orange County, New York Park In the Town of Montgomery, New York
The proposed dinosaur park features include:
60+ state-of-the-art, authentic dinosaurs with uncanny life-like movements strategically placed on dioramic sets across the property.
Six creative and inclusive playgrounds engineered for kids from toddlers to teens.
An age-graded fossil dig site where kids of all ages can make ancient discoveries.
A primordial splash park for cooling off on hot days.
A T-Rexpress train that circles the park with spectacular up-close views of the dinosaurs.
An imaginative dinosaur-themed carousel.
An enclosed amphitheater with daily dinosaur-themed live performances.
A fossil tent for paleontology lectures featuring a life-size Spinosaurus skeleton.
Miniature dinosaur rides where kids steer through two separate courses.
Tent and outdoor picnic tables for dining and special events.
If approved, the park would be open from April through December, 10 a.m. to dusk.
Orange County Wetlands To Be Preserved
Officials note that the site's 58 acres of wetlands would be preserved with a 100-foot buffer around the park
The park is expected to create at least 130 full-time jobs with an aggregate payroll of over $4 million, officials say
"The dinosaur park would be a huge win for the town of Montgomery and is aligned with our vision to become a premier destination to work, live and visit," Town of Montgomery Economic Development Director Felicia Kalan said. "The developer intends to enter into a Community Host Agreement whereby it will pay one dollar to the town for every admission ticket sold in the first full year of operation, become a charitable partner with local nonprofits and offer discounted rates for area students."
Dinosaur Theme Park Previously Planned For Monroe, Town of Wallkill In Orange County
If news of a dinosaur theme park in Orange County sound familiar, don't worry you aren't going crazy.
In 2020, Orange County Dinosaur Park, LLC which operates similar parks in New Jersey and Kansas, planned to build the theme park off Route 17 in the Town of Wallkill, not far from Legoland.
In 2022, the theme park was proposed on 100 acres of land in Monroe, not far from the Mansion Ridge Golf Course in Monroe.
Top 10 Things People Say When They Hear You Are From New York
New York State is home to nearly 20 million people, spread across 54,000 square miles of land with mountains, farms and lakes. When you tell someone you are from New York, they seem to think you live in Manhattan. Here are the Top 10 things people say when you tell them you are from New York.
Where The Hudson Valley Is Gaining, Losing Residents
Most of the Hudson Valley is gaining new residents. How many residents has your county gained or lost?
Nearly 40 Children Have Recently Gone Missing From New York State
25 Must Try Hudson Valley Dining Experiences
We compiled a list of 25 great dining experiences that you should try in the Hudson Valley!
Did You Know? Over 100 Fun Facts About the Hudson Valley
Did you know that Lucille Ball made her stage debut in the Hudson Valley? How about Philadelphia Cream Cheese wasn't invented in Philadelphia, but in Orange County? Or that a mansion in Dutchess County inspired the expression "keeping up with the Joneses?" Find out about those and over 100 other fun facts about the Hudson Valley.
More From WZAD-WCZX The Wolf