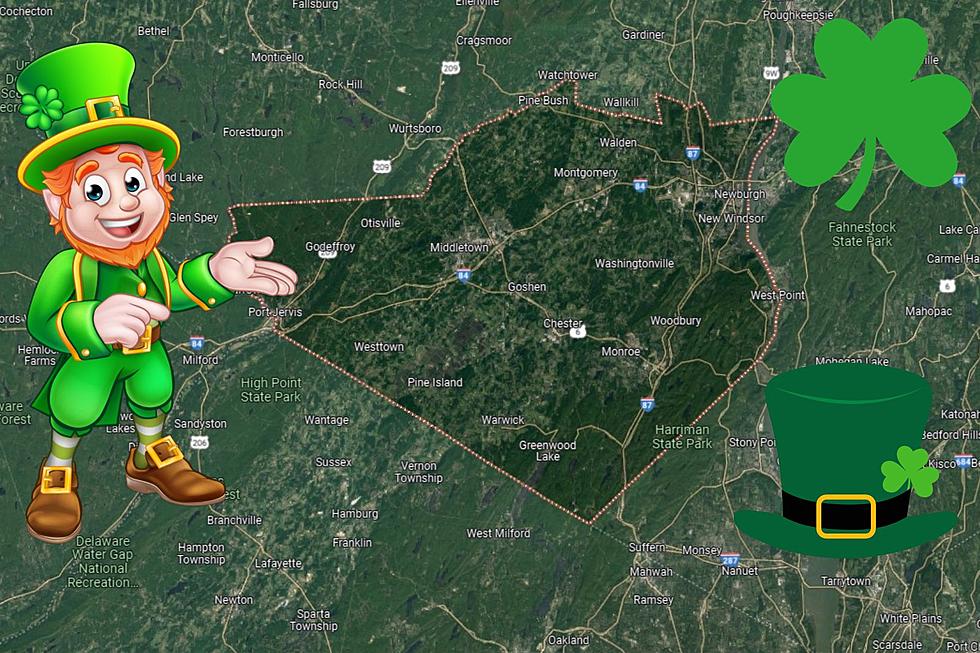 Here's How to Celebrate St Patrick's Day in Orange County
Google Maps/Canva
Orange County, New York is going green all March long to help residents celebrate properly!
If you live in Orange County and are looking for a few different ways to celebrate St. Patricks Day this month, the folks at Orange County Tourism & Film have announced that they have numerous events that will give everyone "smiling eyes"!
Amanda Dana, the Director at the Orange County Tourism & Film recently said,
"Orange County, N.Y., has enough fun and joyful St. Patrick's Day events to give everyone smiling eyes. The music, the food, and the parades add up to fun for families, couples, or friends. Come for one event, or come for several, and make it a weekend filled with good times and great memories."
St Patrick's Day Parde in Goshen, New York
The 46th Annual Mid-Hudson St. Patrick's Parade is scheduled to happen on Sunday, March 12th in Goshen. This year Thomas McCarthy will be the grand marshall with the parade stepping off at 2 p.m. in the Village of Goshen.
Murder Mystery in Newburgh, New York
Our friends at the Newburgh Brewing Company will be hosting a murder mystery called "A Wee Bit O'Murder" on Tuesday, March 14th at the brewery located at 88 South Colden Ave, Newburgh, N.Y. The murder mystery story will involve the leprechauns of Clover Union Local Number 7 and their attempt to try and figure out who stole the missing pot of gold in this St. Patrick's Day-themed case from the ACME Mystery Co. Get more information and tickets here. The mystery starts at 6 p.m.
St. Patrick's Day at the Farm
The folks at Pennings Farm Market will be holding a St Patrick's celebration on Friday with live music from "Emish", an award-winning, high-powered Americana folk-roots-inspired trio with Celtic influences. The music and fun start at 7 p.m. at the farm, located at 161 State Rt. 94 South, Warwick, N.Y.
St Pat's Ramble in Montgomery, New York
The "ramble" will take place on Saturday, March 18th on Union Street in Montgomery. The will be a parade and the Village of Montgomery will be hosting its 10th annual Run for the Gold 5K race. The ramble starts at 1 p.m.
Irish Tenors at Sugar Loaf
It's the 25th Anniversary Irish Tenors show on Sunday, March 19th at the Sugar Loaf Performing Arts Center, 231 Creamery Pond Rd., Chester, N.Y. The world-famous Irish Tenors have been playing Celtic music and helping rekindle a love of all things Irish in America since they burst upon the scene in 1998. The show starts at 8 p.m. Sunday, for tickets and more information check out Suger Loaf Performing Arts Center online here.
The 10 Best Bakeries In and Around Orange County, NY
According to the friendly Yelp reviewers of the Hudson Valley, we have been able to pinpoint the best bakeries in Orange County, New York.
Best Restaurants for Seafood in Orange County, NY
According to the Hudson Valley Yelpers, these ten restaurants have the best seafood in Orange County, NY, from lobster to calamari to oysters and more!
More From WZAD-WCZX The Wolf