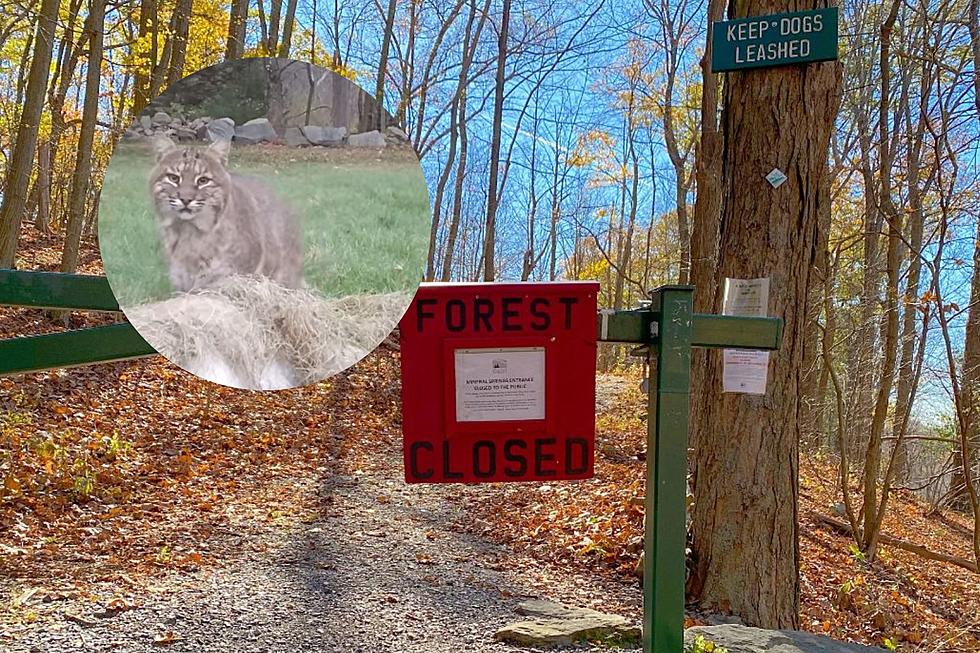 Watch How a Bobcat Loses His Deer in Cornwall, New York
Canva / Black Rock Forest via Facebook
It is no secret that we share the Hudson Valley with some amazing wildlife. Who needs Mutual of Omaha's Wild Kingdom when we have Wildlife Cameras set up all over the Hudson Valley?
Most of what you see online are homeowners capturing something on a ring camera or a critter cam they set up at night in their yard. Recently a Neighbor of the Black Rock Forest in Cornwall, New York shared two videos they had taken with a more professional setup.
Are there Bobcats in Cornwall, New York
The answer to the question is yes there are Bobcats in the Hudson Valley. As a matter of fact, the Black Rock Forest in Cornwall has been tracking them for a while now. Earlier this year it shared a video of one Bobcat that they caught, tagged, and then released.
Watch a Hudson Valley bobcat checking on the deer he killed in the video below shared with the Black Rock Forest by one of their neighbors. They pointed out the grass he was using to hide the deer from other predators.
Unfortunately for the bobcat who obviously did all the work a pair of bears came along and like the true opportunist, they are they took advantage of the easy prey. In the video below that was shared by the same neighbor, you see the bear easily cart of the dead dear.
Bear Cart-Away Dead Deer at Black Rock Forest in Cornwall, New York
Black Rock Forest is Closed for Hunting Season
Bobcats and bears aren't the only animals that hunt in the Black Rock Forest. As of last week, the Black Rock Forest is now closed to the public for NYS Regular Deer Season. Hunting is open to the Black Rock Fish and Game Club members from now until December 8th. 
You'd See Plenty of Wildlife If You Lived Here
Island for Sale in the Wallkill River
The house for sale at
1091 Albany Post Road
is small but stunning. The 70-plus acres that come with the sale are beautiful but the best part of this house is that you will also be the proud owner of an island in the Wallkill River in Gardiner New York.
Gallery Credit: Paty Quyn
200 Year Old Church For Sale with House in Phoenicia, NY
Live at the end of Main Street in downtown Phoenicia, New York
in one of the small town's biggest almost 200-year-old landmarks. It's not often you can buy this much usable living and working space in the Catskills for under $400,000. This property is unique because of its, history, location, and price. With more than 3500 total square feet this church house combination calls out for someone who is creative.
Gallery Credit: Paty Quyn
More From WZAD-WCZX The Wolf