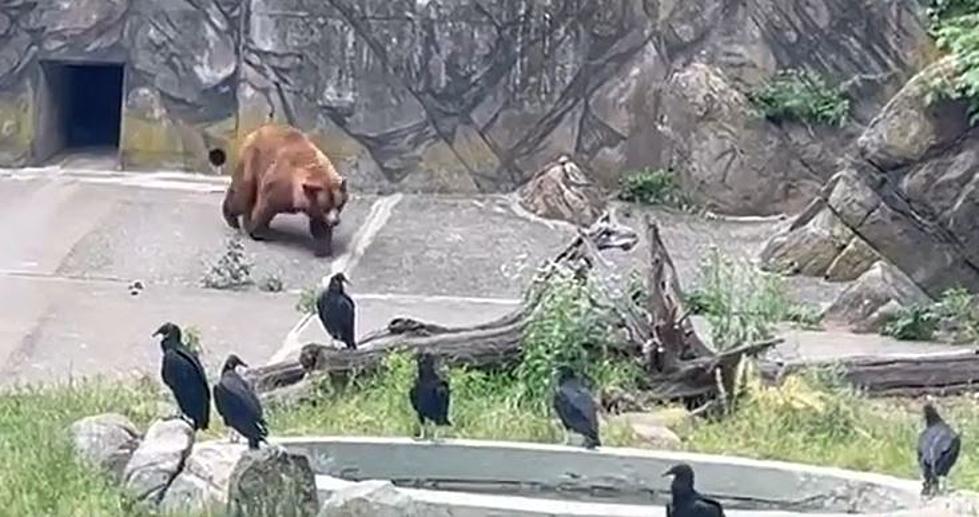 LOOK: Bear Zoomies At The Bear Mountain Zoo In New York
Trailside Museums and Zoo at Bear Mountain State Park via Facebook
I will openly admit to being an animal video watcher and sharer. There is something about a good animal video that can really make you smile and even laugh. I realize some of you might cringe when someone says check out this cat on a cabinet, or a dog howling along to a song but this video I found you have to see.
If you own a pet you are familiar with the term zoomies. This is where your pets seem to be experiencing so much joy they can't help but run around in circles. It always happens with an unexpected burst so it may seem as if they are startled but then you realize nope they are just running around and seem to want you to chime in.
Bear at a New York Zoo Gets the Zoomies
Animal zoomies can happen for a variety of reasons. It can be the reaction to them being surprised but there are other physical traits that can cause zoomies as well,  in the case of the bear at The Trailside Museum and Zoo at Bear Mountain State Park I am going to say it was the most common cause which is excitement and joy.
If you watch the video that the Trailside Museum and Zoo shared on its Facebook page you might think that the bear was possibly trying to shake off a bug but then as the zoomies continue it is clear that it is just a case of the joy zoomies and that the bear might have wanted the Black vultures to join in.
I actually found the bear zoomies funny but the reaction by the Black vultures is just as funny if not funnier. Some just stare the bear down like what are you doing while others make it a point to get out of the way.
Why Black Vultures Hang at the Bear Mountain Zoo
If you aren't familiar with the Trailside Museum and Zoo at Bear Mountian State Park you really need to make a visit. It is a great place in the Hudson Valley to learn more about our forests in New York and the Animals that call them home. They are located near the Bear Mountain Bridge and are open 7 days a week during the summer.
Wild Animals You Can Spot in the Hudson Valley
Hudson Valley Wildlife Gallery
The Hudson Valley is full of wildlife. Here are just a few of our furry, slithery, and feather friends that might frequent your backyard. Please reach out and let us know which creature we may have left off the list.
Have You Done Any of these Offbeat Adventures
Offbeat adventures: Travel to the coolest hidden wonders in every U.S. state
Fuel your offbeat travel dreams.
Stacker
found the coolest hidden wonders in all 50 U.S. states (plus D.C.) using data from
Atlas Obscura
.
[WARNING: Under no circumstances should you enter private or abandoned property. By doing so you risk bodily harm and/or prosecution for trespassing.]
More From WZAD-WCZX The Wolf