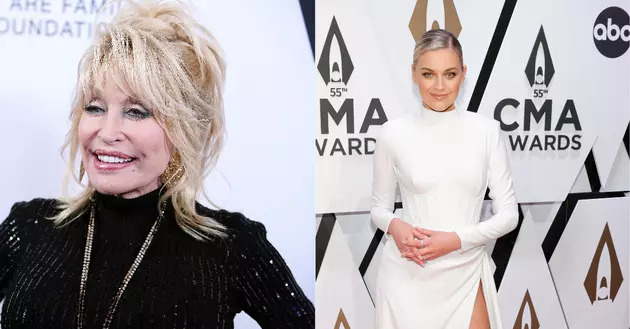 2 Country Super Stars to Voice James Patterson Audio Book
Getty Images
A Hudson Valley author is now getting help from 2 country music superstars.
For those who don't know, mystery novelist James Patterson is a Hudson Valley native. Patterson grew up in Newburgh. Patterson has some of the most recognizable characters in the mystery genre like Alex Cross and Michael Bennett.
Back in August of 2021, it was reported that James Patterson was teaming up with country music superstar Dolly Parton. The 2 were set to release a new book called Run, Rose Run.
The story follows a singer-songwriter to Nashville, of course there is a dark twist. According to the publisher, Little Brown and Company, 'Run, Rose Run' will go a little something like this:
Every song tells a story.

She's a star on the rise, singing about the hard life behind her.

 

She's also on the run. Find a future, lose a past. 

Nashville is where she's come to claim her destiny.

 

It's also where the darkness she's fled might find her.  And destroy her.
Run, Rose Run is set to be released on March 7th, 2022. The book is accompanied by a 12 song album, all written by Dolly Parton. The album and the songs will be based off the situations the main character faces in the novel.
Not only will Run, Rose Run be available in hard and soft cover and digitally, but there will also be an audio book. The audio book will be voiced by Dolly Parton of course and Kelsea Ballerini.
Ballerini wrote on Facebook:
i cannot even tell you how incredible this Dolly Parton & James Patterson novel is and how obsessed i am with the character i had the honor of bringing to life. can't wait for you to experience "run, rose, run" and meet AnnieLee!!! (and omg dolly as Ruthanna )
Run Rose, Run is now available for pre-order.
Did You Know? Over 100 Fun Facts About the Hudson Valley
Did you know that Lucille Ball made her stage debut in the Hudson Valley? How about Philadelphia Cream Cheese wasn't invented in Philadelphia, but in Orange County? Or that a mansion in Dutchess County inspired the expression "keeping up with the Joneses?" Find out about those and over 100 other fun facts about the Hudson Valley.
13 Things Invented in the Hudson Valley
The Hudson Valley is known for many things, but not many people are aware that some of the world's most iconic inventions were made right here in our area.
Highest-Rated Airbnb in New York Found in Hudson Valley
You won't have to leave the Hudson Valley if you want to enjoy New York's highest-rated Airbnb.
Is It Legal to Carry These Things in the Hudson Valley?
Answers To Your Questions About What's Legal to Carry
More From WZAD-WCZX The Wolf