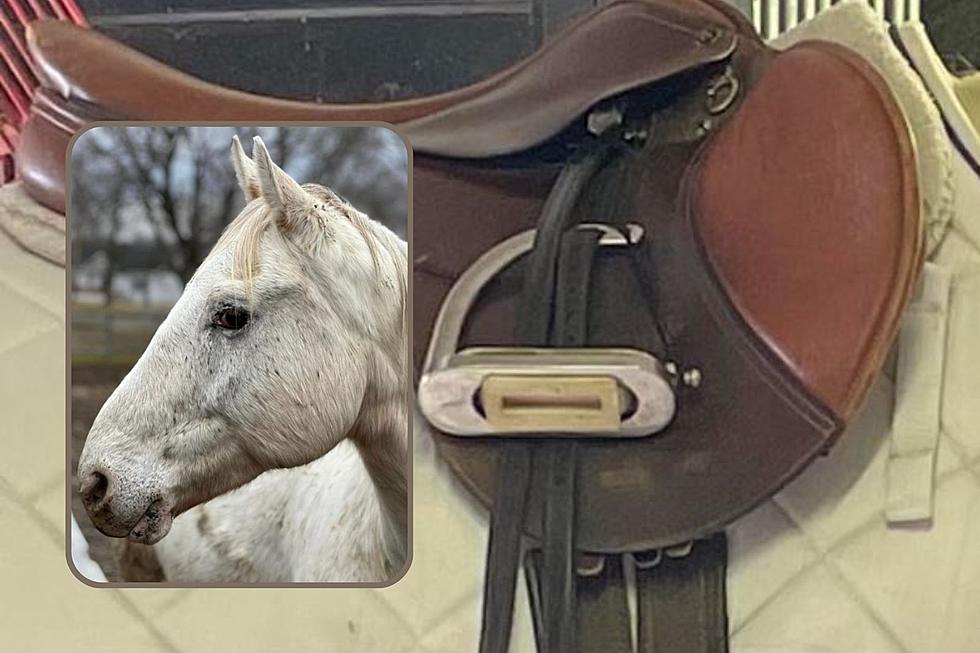 Wallkill New York Therapy Program Looking for Stolen Item
Canva / Making Stride Therapeutic Horsemanship INC via Facebook
I got news this week through a friend that a therapeutic riding facility had lost a piece of important equipment. I use the word lost but the reality is it appears it has been stolen.
Making Strides Therapedic Horsemanship Inc which is located in Wallkill, New York reported this week on their Facebook page that they have had a piece of equipment go missing from their facility. Apparently, someone helped themselves to a saddle worth approximately $1500 which was used by one of the horses in the program.
Saddle Stolen from Wallkill New York Therapeutic Riding Center
Making Strides posted on Facebook that at some point between February 12th and the 14th, a saddle had gone missing from the facility. It is presumed that this saddle has been stolen. It is one they use on a horse named Snowman. Without his saddle, they are unable to use Snowman who is an important part of their program.
Anyone familiar with horses knows that the saddle has to suit the horse and then the rider. When I reached out to Kimberly the Founder and Executive Director she responded quickly that they are truly hoping that the person who has the saddle will return it "No Questions Asked". It is more important they get the piece of equipment back.
The fear is that this saddle has already been sent to consignment or some other retail exchange which means that Making Strides will have to find a way to raise money to acquire a new saddle. In the meantime, clients who rely on Snowman for their therapy will be left without their ride which is the real crime in all of this mess.
Kimberly is asking anyone who is in the tack business to keep an eye out for this saddle. It is an Ovation size 16.5, if it is located that will solve part of the problem of replacing it. If you are a local tack shop, or if you shop online please keep your eye out for the saddle below. Being able to get the saddle back is the main goal for Kimberly and her team.
The saddle did have a nameplate but it is assumed that at this point that would have been removed. If you would like to reach out and help Making Strides Therapeutic Horsemanship Inc., Kimberly shared the organization's Venmo @makingstridesth and also mentioned that you can contact them at makingstridesth@gmail.com for more information on their programs.
How to Help Replace Saddle Stolen From Wallkill, New York Horse Therapy Program
I am also going to suggest you look into their programs in case you know someone who would benefit from the amazing work they do in March they have their  "Equi Mind" Meditation group starting back up with Laurie Giannola, LCSW-R. Come and experience the many benefits of human-equine interaction and cultivate equanimity in the moment.
Murphy The Orange County New York Horse Who Loved Guinness
Murphy the Old Horse Who Loved Guinness
Most of us were introduced to Murphy last November when Manhattan Beer Distributors donated him a supply of Guinness to help him thrive. Thanks to them and all the great folks who cared for Murphy over the years he had a great life. Equine Rescue Resources was Murphy's last home and we found these photos on their Facebook page.
Look at the Actors who Adopted Animals from Movies
10 Actors Who Adopted Animals From Movie And Sets
More From WZAD-WCZX The Wolf