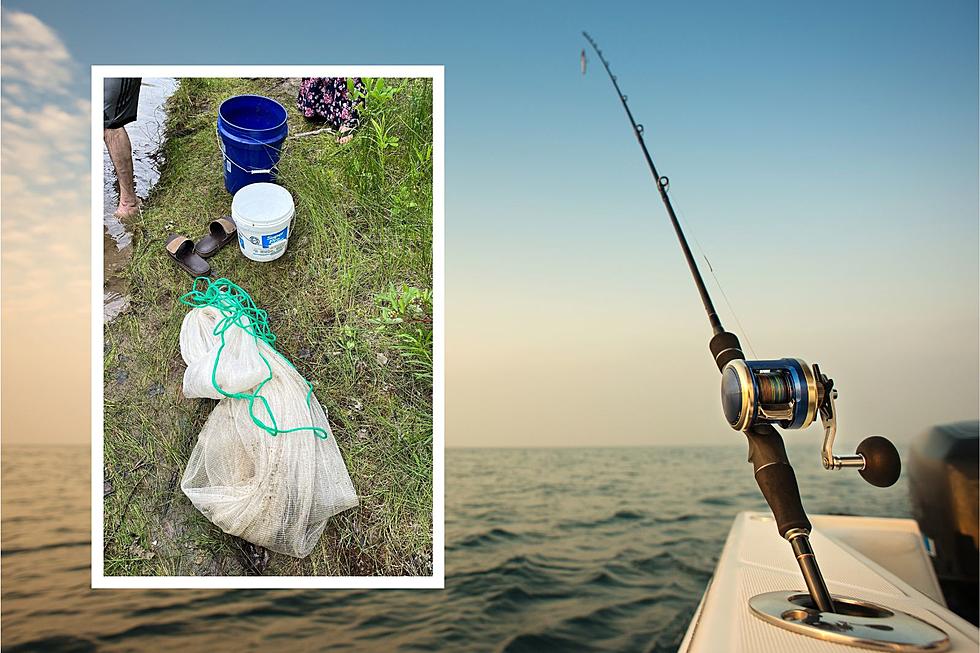 Dumb Upstate New York Fisherman's Lie Reels Him $1,000 in Fines
NYS DEC, Canva
It's one thing to break the law, but lying like this just made everything 10-times worse.
The NYS Department of Environmental Conservation (DEC) was recently alerted about two people casting a net in the Tillman Road Wildlife Management Area in the Town of Clarence. ECO's Ike Bobseine and Don Damrath took the call and quickly headed over to Erie County to learn more.
Officer Damrath arrived first, where he witnessed a man casting a net into the water and quickly hiding it in the bushes. When the officer got out of his car to approach the scene, the man's young child quickly popped up and ran back to his parents.
Suspicious? No kidding! But what the man did next will blow your mind.
Endless Denial
Even though he was wet, muddy and barefoot, the man completely denied using the the cast net. ECO Damrath then found the net and bucket, containing 107 pumpkinseeds and bluegills (82 over the 25 panfish limit)... and a 1-inch largemouth bass fry. All of which the man continued to deny was his doing.
The man's wife finally admitted to it all, saying her husband used the net because her son couldn't catch anything with a fishing pole. But why did the kid run from the officer before? That's because his parents put him on lookout.
So it's clear the family was both aware that what they were doing was wrong AND lying through their teeth about everything.
ECOs Damrath and Bobseine charged the man with several offenses, of which he now faces $1,000 in fines. Too bad your son "couldn't fish", right?
12 Of New York State's Most Wanted Criminals- July 2023
Below are individuals wanted by the New York State Department of Corrections and Community Supervision's (DOCCS) Office of Special Investigations who have been designated as its
Most Wanted Fugitives
. They should be considered armed and dangerous. This list is current as of 7/01/2023:
NEVER attempt to apprehend a fugitive yourself. If you have information on the location of any of these fugitives, you can contact OSI 24 hours a day / 7 days a week to report it. All leads and tips are treated as confidential information.
If an immediate response is necessary, such as you see the wanted person at a location, please call "911" and report it to the police.
9 Spots to Enjoy Camping & Waterfalls in New York State Parks
Hike by waterfalls during the day and sleep under the stars at night at these 13 New York State Parks.
Nearly 50 Children Have Recently Gone Missing From New York State
In just a few months around 50 children from New York State and the Hudson Valley went missing
10 Best Lakes in New York To Reel in the Big One
Splash Into 6 New York State Water Parks This Summer
What an easy way to beat the heat! You have to see what New York families are saying about their favorite water parks on Google Reviews.
More From WZAD-WCZX The Wolf