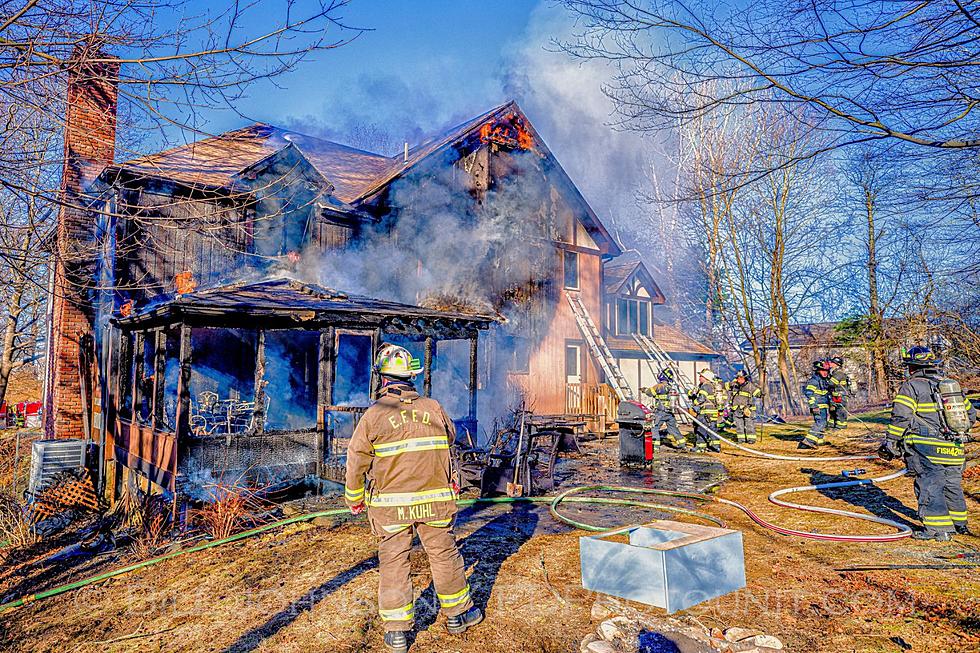 Tragic Fire in East Fishkill, One Family Loses Everything
Bill Johnson/FDPhotounit.com/Gofundme
A fire ripped through a home in the Wiccoppe section of East Fishkill on Monday with one family losing everything including their pets.
Fire officials at the Wiccopee Fire Company have reported that just before 3:30 p.m. on Monday, March 6th they were sent to a reported structure fire at 10 Fox Run. As firefighters arrived on the scene they were met with heavy fire throughout the first floor of the house and the fire was spreading quickly.
Firefighters Battle East Fishkill, NY House Fire
As more firefighting apparatus arrived on the scene crews were able to deploy numerous hose lines which allowed first responders to conduct a search of the residence. Thankfully the family that lived at the house wasn't home at the time of the fire but according to the Gofundme page set up by a family friend the family's "fur babies" were at the house and tragically perished in the blaze.
Firefighters and apparatus from all four stations in the East Fishkill Fire District including Station 1 (Hopewell Hose), Station 2 (Stormville Fire), Station 3 (Hillside Lake), and Station 4 and Substation 4 (Wicopee Fire) "worked together to get the fire under control in a true team effort" according to the fire companies Facebook page. One firefighter was taken to the hospital to receive treatment for minor burns.
East Fishkill Family Loses Everything
As news of the fire was shared throughout the East Fishkill community, a neighbor of the family that lost their home started a Gofundme page to try and help their neighbors rebuild after such a tragedy saying, "Hi, my name is Lauren, our neighbor's house caught fire and they have lost everything. I am looking for any donations to help them get through this horrific tragedy. The family was not home at the time of the fire but they lost their fur friends. It has been heartbreaking, to say the least. Any contributions will go directly to this family to help them during this difficult time. Anything is appreciated. Thank you." The GoFundMe page can be found here.
Poughkeepsie Pizza Place Destroyed by Fire
Before and after pictures of Tony's Pizza Pit in Poughkeepsie, New York.
18-Car Tangle-Up on Storm King Mountain in Cornwall, NY
Icy conditions are blamed for a scary 18-car tangle-up on Storm King Mountain on February 27th, 2023.
More From WZAD-WCZX The Wolf