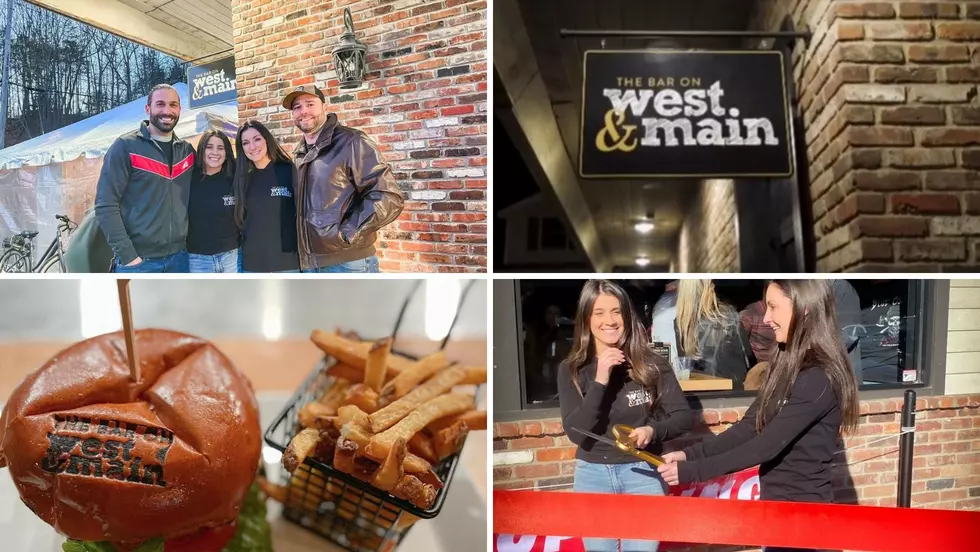 The Bar on West & Main Opens its Doors in Pleasant Valley, NY
The Bar on West & Main, Instagram
There's a new bar in town and it's bringing a "good vibe" to the Pleasant Valley community.
You may remember back in May of 2022, we shared that 2 Pleasant Valley natives were working on opening a new bar/restaurant. Alexandra Pullman and Arianna Milanese had worked in the restaurant industry across the Hudson Valley for the last 8 years and decided to join forces to create a new spot for locals to enjoy in their hometown.
2 Pleasant Valley Natives with a Dream
For the last few months, we got to watch as Alex and Arianna transformed an empty space into The Bar on West & Main, literally. The ladies documented every step of their journey on social media:
On January 8th, 2023, The Bar on West & Main officially opened their doors. We reached out to Alex and Arianna and they told us:
We have been so appreciative and want to thank the whole community for their continuous support! This week we have met so many new locals who have followed our journey on social media since the summer. It was very comforting to meet all of our new customers and to see old customers returning. Before starting our business, Alex & I had a vision. One being our vision for the place — to create an intimate and "good vibe" environment— but the second being how we visioned ourselves as employers. We both feel very strong about creating an emotionally safe, respectful and fun environment for our employees.

 
Arianna adds "We truly believe that this is the root of giving good service and having a comforting environment for our customers. Our staff is so amazing, we love every single one of them and we're excited to have our "work family" become one with the public."
In the kitchen, Chef Edward Harder is in control of curating a phenomenal menu including plates like Beer Battered Cod Fish N Chips, mouthwatering burgers and sandwiches. You can't forget about the appetizers that game changers like Chef Ed's Thai Mussels, General Tso's Crispy Cauliflower and Beech Tree Baked Brie.
Chef Ed is backed by his amazing staff, Crew Chef's Mel and Ryan.
The Bar on West & Main in Pleasant Valley: Family Owned & Operated
Alex and Arianna took on a big project of turning an empty space into the Hudson Valley's newest bar restaurant. They enlisted the help of their partners Paris and Nick telling us the guys worked extremely hard to help the ladies' dream establishment come to life. Arianna says:
"They got up and went to work every morning knowing their day didn't end at 5 pm. They worked every day building the bar late into the night. There are no words to thank the time, work and dedication these guys put into building our dream."
You can visit The Bar on West & Main Tuesday through Friday from 3 pm to 12 am, Saturdays from 12 pm until 12 am, and Sundays from 12 pm until 8 pm (they're closed on Mondays).
A Tour of Pleasant Valley
Six things we love about Pleasant Valley.
Hudson Valley Restaurants Where You'll Enjoy Eating at the Bar
Chances are your favorite Hudson Valley Restaurant has an awesome bar. Next time you are at your favorite lunch or dinner spot consider a seat at the bar for your meal. I tried it once because the dining room was booked and now the restaurant bar for food and drinks is sometimes my preferred choice. Here a some of the ones I have discovered that you can enjoy.
'Dying' Hudson Valley, New York Mall Now 'Ultimate Destination'
More From WZAD-WCZX The Wolf