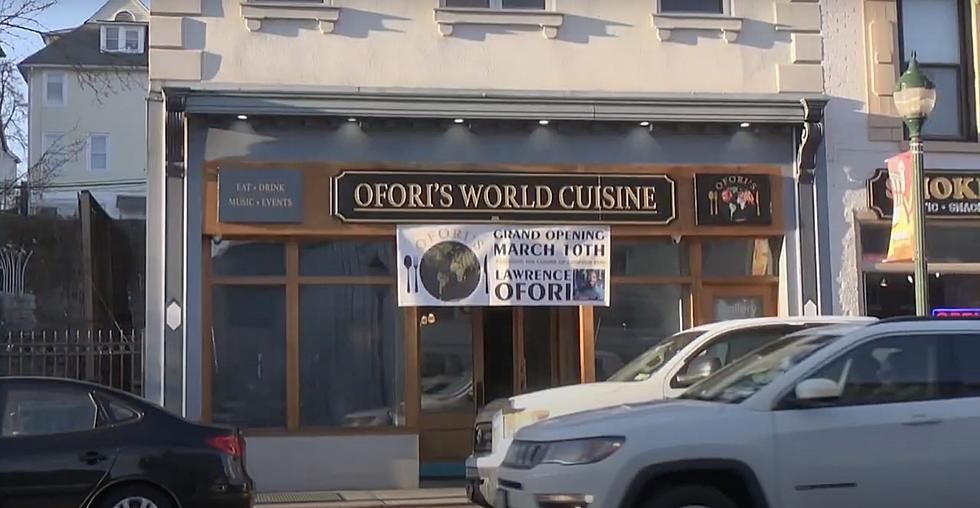 Food Network's Chopped Finalist Opens Restaurant in Peekskill, NY
YouTube, Peekskill Today
A Food Network Finalist upgrades from his food truck to his very own restaurant! Chopped finalist Lawrence Ofori opened his brand new restaurant, Ofori's World Cuisine, earlier this month.
Born in Ghana, Chef Lawrence Ofori made his first television appearance on "Chopped," which airs on the Food Network. He was a finalist on Season 36 Episode 3 - Espresso Express. Ofori says that he loves creating colorful and flavorful meals that will overwhelm the senses. It was his grandmother's farm-to-table cuisine that ignited his passion for fresh, simple, yet flavorful food. Before opening Ofori's World Cuisine, he ran his Spicy food truck that used to be parked outside the Jefferson Valley Mall, according to lohud. The truck was popular for its sauces that accompanied his chicken wings, coconut shrimp, and tilapia.
Ofori's World Cuisine is Now Open in Peekskill
Ofori's World Cuisine opened in Peekskill, NY on March 10th, 2023. Lawrence Ofori told lohud,
I think the main reason why I came to Peekskill is because of diversity. There is a lot of diversity here, but I feel like there's not that much togetherness. Even though there's diversity there's no togetherness, and I want to bring that togetherness to Ofori's. That's why it's world cuisine. So, you see Mexicans here, you see Chinese here, you see Africans here, Jamaicans, and we'll all be together.
Ofori's menu ranges with influences from Mexico, India, Africa, Italy, and the Caribbean.
Where is Ofori's World Cuisine and When to Dine?
Ofori's is located at 982 Main Street, Peekskill, NY. They are closed Monday, but the rest of their schedule is as followed:
Tuesday: 4pm to 9pm
Wednesday - Thursday: 12pm to 9pm
Friday - Saturday: 3pm to 3am
Sunday: 12pm to 9pm
Early Reviews for Ofori's World Cuisine
Several people have already taken to Google to leave some rave reviews. Salome Green said,
What an amazing experience!!! The food, drinks, staff and ambiance was incredible. One of the best spots in town!
Kwaku Oben said,
Omg! The taste of every food I ordered was amazing. Incredible flavors from different parts of the world. Highly recommended! 🔥🔥🔥
Traveling Cosmos and Tacos said,
I'm in HEAVEN!! Everything I tried is loaded with flavor! You did not disappoint I tried the Rosemary Martini, coconut Shrimp and Shrimp Chamanchanga with the orange and green sauce. Delicious! Come check out the night life! There's a private room in the back that holds up to 20 ppl with bottle service and there's a DJ Friday nights! Flavorful foods, great drinks and afrobeats….. What are you waiting for?? Meet me there!!!!!! Let's go!
Gina Essel wrote,
I had the most amazing experience at Oforis. The flavor and texture from the snapper was incredible. 🔥🔥🔥. Will be eating more often at Oforis and I highly recommend.
10 Best Restaurants for Mexican Cuisine in Westchester, NY
According to reviews on Tripadvisor, these restaurants are the best in and around Westchester County, New York.
The Best Delis You Must Try in Westchester, New York
According to Yelp reviews, these Westchester delis are to die for. Don't believe me? Check out the glowing reviews left by people like you below!
You Must Try These 10 Bagel Shops in Westchester, NY
What's more New York than a good bagel? Westchester NY is putting in the work to be the best area for bagels, and here is why!
More From WZAD-WCZX The Wolf