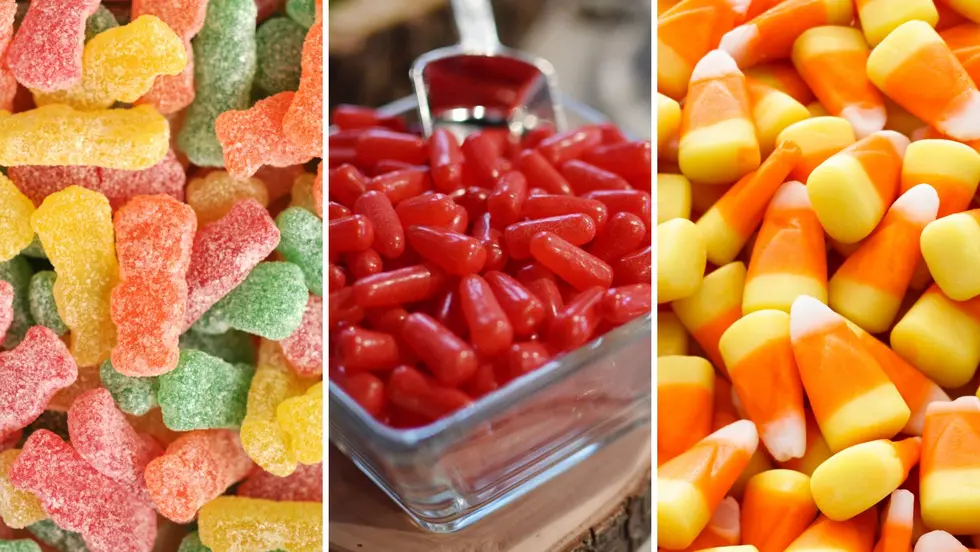 NY'ers Favorite Halloween Candies are… Questionable
Canva
Trick-or-Treat! We're thinking the latest poll in popular Halloween candies has to be a trick. You'll see what we're talking about when we get to New York's favorites.
Most Popular Halloween Candy in 2022
This time of year the grocery store isles are stocked full of Halloween treats. From chocolates to gummies to pretzels and stickers, they have it all. But let's be real, we all have our favorites and are very judgemental when it comes to our friend's and families' candy choices.
Every year CandyStore.com does all the hard work, collecting data to narrow down the most popular Halloween candies across the United States. Take a look below at their map of the Most Popular Halloween Candy State-By-State for 2022:
Source: CandyStore.com.
As you can see, New York's favorite candy is Sour Patch kids. Personally, I'm a fan so there's nothing to strange to see there. However, it's when we get to the 2nd and 3rd top picks in New York that we start questioning our home state.
New Yorkers Love Spicey Candy
Coming in at #2 is Hot Tamales. I want you to take a second and think about standing in the candy section of any store. If they're all out of your favorite candy, what is your second choice? I'd bet a lot of money that you're not going for a Hot Tamale. Am I right?
New York's  Most Controversial Halloween Candy Opinion
Number 3 might be the most controversial answer of all time. Sitting at the #3 spot is CANDY CORN.
I love Candy Corn, go ahead and judge me. But I am aware that most people hate it. So how did it come in at #3? According to CandyStore.com, we're not alone. Candy Corn came in at #10 for the most popular Halloween candy in America.
Candystore.com sells candy in bulk and, for the last 15 years, has been collecting candy trending data. According to the candy website, "Halloween candy spending should hit a whopping $3.1 Billion this year! That's a new all-time high."
Who woulda thunk it!?
What's your favorite Halloween candy? What are you giving out this year?
Wappingers SFX Makeup Artist Goes All Out For 31 Days of Halloween
Jamielyn Boldrin, an SFX Makeup Artist from Wappingers Falls, takes Halloween to a whole new level with her 31 Days of Halloween Makeup Challenge. Do you recognize any of the movies or TV shows these looks are from?
Poughkeepsie, NY Family Turns Front Yard into 'Haunted Graveyard' For Halloween 2022
This Poughkeepsie, NY culdesac has taken a hauntingly fun turn. Where is your favorite Halloween decoration display?
Sanderson Sister Airbnb Near Salem MA
This is not a movie set it is an actual house made to look just like the Sanderson Sister's home from Hocus Pocus 2 and it will be available on Airbnb for one night only. According to the listing, Winifred Sanderson and her sisters are opening up the house for 2 guests for one night only on October 20, 2022. And the big hitch is you can't book it until October 12th, 2022 at 1 PM. It is my prediction that this listing will break the internet that day when Hocus Pocus Fans try to rent it all at the same time. FYI the scariest thing about this charming stay may be the fact that there is no indoor plumbing.
More From WZAD-WCZX The Wolf