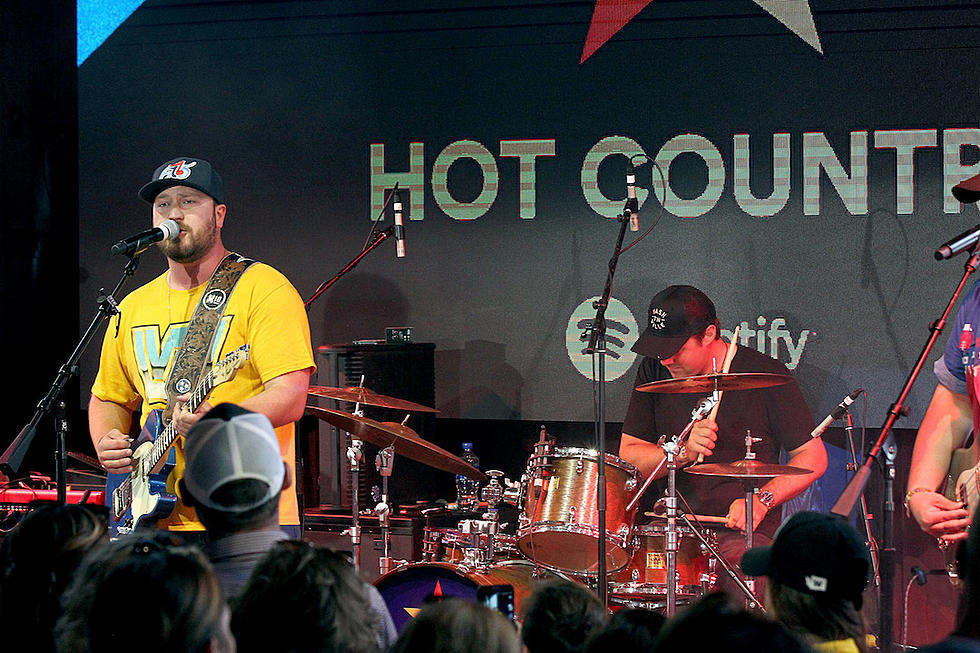 Everything We Know About Mitchell Tenpenny's Debut Album, 'Telling All My Secrets'
Terry Wyatt, Getty Images
Mitchell Tenpenny is no stranger to country music -- the up-and-comer decided to pursue songwriting after watching his grandmother, Donna Hilley, rise from a career as a DJ-turned-publishing company executive to the top of Sony / ATV Nashville in the 1990s -- but many country fans may not know him all that well ... yet. That'll soon change, though.
Tenpenny's first radio single, "Drunk Me," just hit No. 1, and he'll follow the hit single with his first full-length studio album this winter. Read on to learn everything we know about the new project.
The Title
In October, Tenpenny shared that the title of his debut album will be Telling All My Secrets. The record's name comes from its 10th and penultimate track.
The Release Date
Telling All My Secrets is scheduled for release on Dec. 14. The record is currently available for pre-order.
The Record Label
Tenpenny's new album will be released via Riser House / Columbia Nashville.
The Album Cover
The cover art for Telling All My Secrets depicts Tenpenny standing at a payphone, staring off into the distance, with fog in the background. It brings the subject of his first single, "Drunk Me," to mind, as the song deals with the problem of wanting to get in touch with an ex after a few too many drinks.
The Producer
Producing Telling All My Secrets was a joint effort. Tenpenny co-produced the bulk of the album's tracks, and Jordan Schmidt, Sam Sumser and Paul DiGiovanni also have production credits on the project.
The Single
Tenpenny's first single off his new album, "Drunk Me," was co-written with Jordan Schmidt and Justin Wilson, and also makes an appearance on his self-titled EP.
"It's not about being sober forever, because all of us drink and we enjoy it, but it's about quitting drinking for a little bit to stand a chance of getting over somebody," Tenpenny explained of the song at a recent party to celebrate the announcement of his debut album.
As of the week of Oct. 8, "Drunk Me" sits at No. 12 at country radio, and is the first song that has taken Tenpenny that far up the charts as an artist.
The Songs
Tenpenny co-wrote all 11 songs on Telling All My Secrets. In addition to "Drunk Me," Tenpenny shared the title track off his new album with fans on Oct. 10; he's also shared "Walk Like Him," a song inspired by his late father.
On the same day, the singer also shared the full tracklist for Telling All My Secrets with a little help from some of his country music friends, including Dustin Lynch, Devin Dawson and RaeLynn, who all contributed to a special compilation video revealing the title of each track on the album and sharing their well wishes for Tenpenny's first studio release. Tenpenny's other co-writers include Jordan Schmidt, Hillary Lindsey, Thomas Archer and more.
Mitchell Tenpenny, Telling All My Secrets Track List:
1. "Truck I Drove in High School" (Mitchell Tenpenny/Jordan Schmidt/Andrew Albert/Devin Dawson)
2. "Alcohol You Later" (Mitchell Tenpenny/Sam Sumser/Michael Lotten)
3. "All On You" (Mitchell Tenpenny/Andrew Albert/Nick Fradiani/Jordan Schmidt)
4. "Goner" (Mitchell Tenpenny/Andrew Albert/Jordan Schmidt)
5. "Chance Worth Taking" (Mitchell Tenpenny/Josh Hoge/Matthew McVaney)
6. "I Get The Picture" (Mitchell Tenpenny/Alex Kline/Michael Whitworth)
7. "Drunk Me" (Mitchell Tenpenny/Jordan Schmidt/Justin Wilson)
8. "Somebody's Got Me" (Mitchell Tenpenny/Hillary Lindsey/Jordan Schmidt)
9. "Somebody Ain't You" (Mitchell Tenpenny/Thomas Archer/Dallas Wilson)
10. "Telling All My Secrets" (Mitchell Tenpenny/Jordan Minton/Dallas Wilson)
11. "Walk Like Him" (Mitchell Tenpenny/Justin Ebach/Steven Dale Jones)
The Tour
More From WZAD-WCZX The Wolf