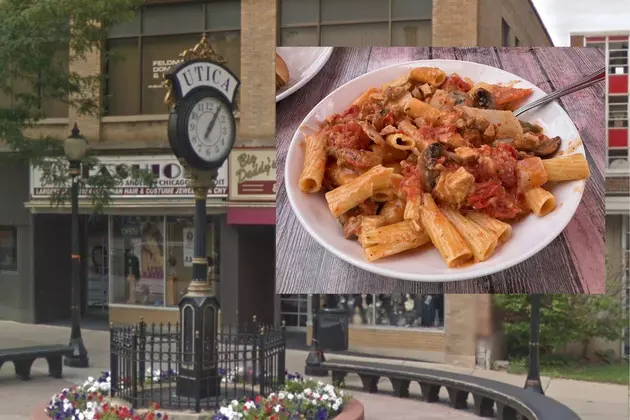 Little-Known Regional Dish is New York State's Best Kept Secret
Google Maps/A. Boris
Why this pasta recipe never caught on in the rest of New York State is simply mind-boggling.
If there's one thing that New Yorkers know, it's food. While New York City is famous for its legendary pizza, cheesecake and bagels, there are dozens of regional foods that are enjoyed in small upstate communities that the rest of the state has never even heard of.
I recently took a road trip through Upstate New York and stumbled across a regional pasta dish that blew my taste buds away. Before leaving, I researched what foods to look out for and was surprised by how many unique menu items exist in upstate New York. Of course, everyone knows about Buffalo's famous wings, but the region is also home to the beef on weck sandwich. Tender, thin beef is placed on a soft kimmelweck bun that's topped with coarse salt and caraway seeds. Served with au jus, this sandwich is unlike anything you've ever had before. There's also a Michigan dog, which has nothing to do with the state of Michigan, Utica greens, the garbage plate, spiedies and a host of other oddly named foods that locals keep closely guarded.
After sampling as many of these regional foods as possible during our trip, a pasta dish called "Chicken Riggies" quickly became our family's favorite. This delicious combination of creamy pasta sauce and marinate vegetables blew our minds and left us wondering why the rest of New York hasn't embraced this amazing comfort food.
We traveled to Utica, the birthplace of Chicken Riggies, to try this unique pasta dish. The simple recipe includes pasta and chicken tossed in what tastes like a vodka sauce. But what makes this dish truly unique is the addition of hot cherry peppers, mushrooms, onions and other coarsely-chopped veggies. The hot cherry peppers are what make this dish truly sing. While they're not especially hot, the flavor incorporates into the creamy tomato sauce and wraps around the pasta and chicken to make every bite full of taste.
My son can be a picky eater, but the plate of Chicken Riggies we put in front of him was completely cleaned within a few minutes.
Named for the main ingredients of rigatoni pasta and chicken, this recipe was supposedly created in the 1970s. While there's debate as to who invented it, the city of Utica has completely embraced this hometown dish and you can find it on the menu at several local restaurants.
The Verdict is in, Here's the Real History of Utica Chicken Riggies
It's now Utica's most famous dish, Utica Chicken Riggies. We talked with many restauranteurs who were around at the time when this iconic dish was created. We now have the answer to this question: who created the first "Utica Riggies" recipe.
From A To Z- Chicken Riggies You Need To Try In 2023 Central New York
These are just a few of the riggies that you can try in Central New York, from A to Z. What restaurant serves up your favorites?
More From WZAD-WCZX The Wolf