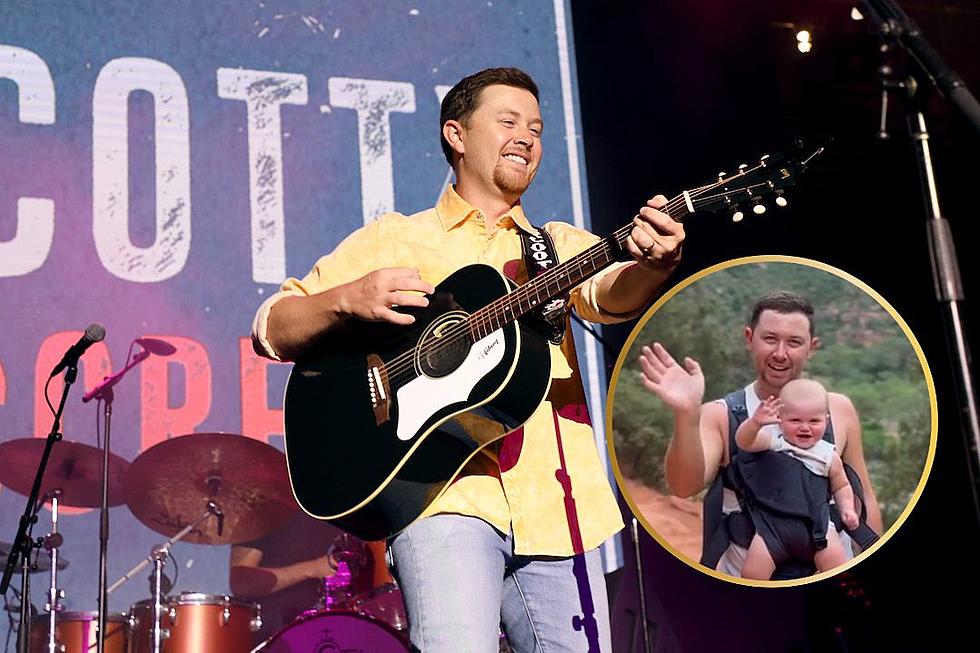 Scotty McCreery's Son Avery Looks Cool as a Cucumber on Family Vacation [Watch]
Danielle Del Valle, Getty Images/Instagram
Scotty McCreery's nine-month-old son Avery is no stranger to the road — he's already been out on tour with his country star dad, and even made an onstage appearance or two — but this might just be baby's first road trip vacation.
McCreery hopped on Instagram on Wednesday (July 26) to share some snapshots from day one of a family trip to Utah's Zion National Park. The singer and his wife Gabi are outfitted in backpacking gear as they make their way through the valleys and mountains of the stunning park landscape.
Of course, little Avery is taking in the view, too. Not steady enough on his feet yet to be expected to hike, he's got the best of both worlds, barefoot and rocking sunglasses as he takes in all the views from his spot snugly strapped to his dad's chest.
In one video in the carousel of shots, McCreery and Avery pause on the trail to wave at Gabi — aka "mama"! — as she's standing behind the camera. In another photo, the whole family pose together, a gorgeous backdrop of mountains behind them.
Avery — whose full name is Merrick Avery McCreery — is the country couple's first child. He was born in October 2022, and since then, the singer has frequently shared updates and special moments from his family life with his fans on social media.
He's also been at work on new music, and says that fatherhood is having a big influence on his songwriting.
"There's definitely gonna be some baby songs, as you could guess," the star explains, speaking about what fans can expect from his next album.
"My music for sure has kind of leaned a little bit into that autobiographical stuff. Something that I learned about music is how alike we all are, rather than different," he continues. "When I talk about my life, I could be talking about thousands of other people's lives, and they relate to it, too. So there'll be a lot of life stuff. Just about not taking things for granted, and that's where I'm at right now — just appreciating this new stage of life, and new fatherhood."
Oh, Baby! All of These Country Stars Have Had Babies in 2023
Say cheese! Meet the adorable babies welcomed into the country music family in 2023.
R.I.P: Remembering Country Stars Who Died in 2023
Take a moment to remember the country artists, songwriters and other industry members we've lost in 2023.
More From WZAD-WCZX The Wolf