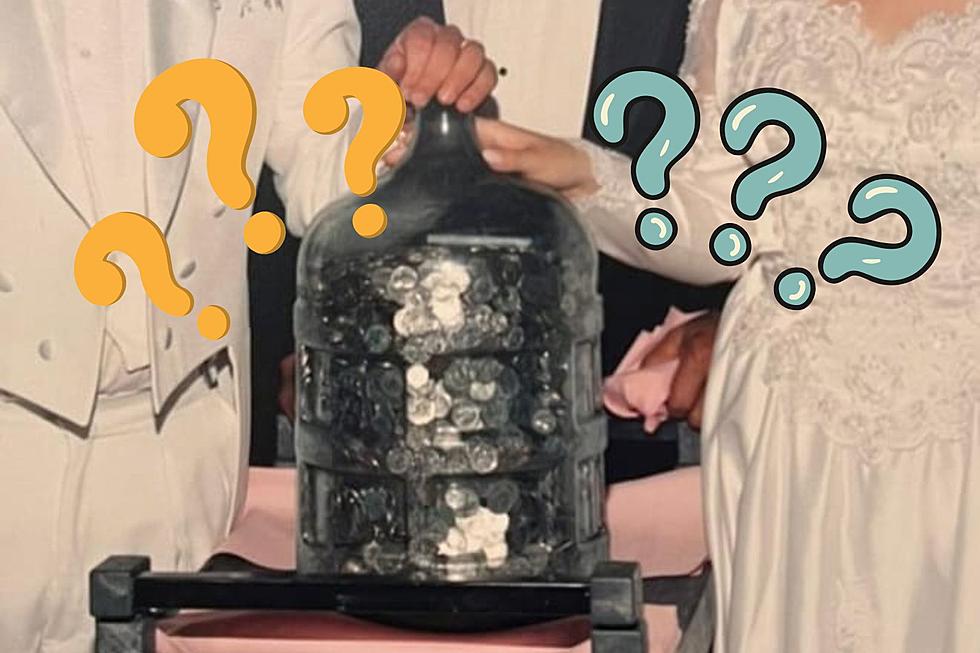 Hudson Valley Couple Gets Unique 'Jug' as Wedding Gift
Erika Ann/Facebook
How much money do you think was in this coin jug that a Hudson Valley couple got as their wedding gift?
Early this week I shared on Facebook that I was getting ready to finally cash in all of the loose change that's been accumulating at my house and in my car over the last year. I posted a picture of the one-gallon ziplock bag that was almost full of coins on Facebook asking friends if they wanted to guess how much $$$ was in the bag.
How Much Cash Was in the Bag?
After receiving hundreds of guesses nobody got the exact total correct. The closest guess missed by 70 cents...LOL! The finally total was...
After sharing the picture above I got a message from a fan of the radio show letting us know that she also had a huge amount of coins that she had to cash in. The difference between her coins and mine was that she received them as a wedding gift from her dad.
Coin Jug Wedding Gift
Erika told us,
"My Dad gifted us this at our wedding on April 8, 1989, Back then there weren't machines to count it and I had to sort and roll it all before cashing it in."
WOW! A jug of change as a wedding gift. My first thought was did the newly married couple think this was a good gift or not? Erika told us that she and her husband thought it was an AMAZING gift! Not only did Erika and her husband get a bunch of money and a great story to tell...they also were able to spend time together sitting, talking, and rolling up the coins.
Erika said that the morning of the wedding her dad went to the bank and bought $300 in quarters to try and top the jug off, "That morning he went to the bank and bought $300 in quarters hoping to get it completely full."
How Much Money Was in the Jug?
I've never been good at estimates or guessing at things like this so I didn't even try to guess...LOL! Erika told us that after rolling everything up and bringing it to the bank they walked away with $2,853!!!! She said, "It was $2,853....but whose counting "
Have you ever cashed change/coins in at your bank or credit union? What's the most you ever cashed in at one time? Let us know through the Wolf Country app and if you are planning to get married soon here are some of the Hudson Valley's best wedding venues...
17 of the Hudson Valley's Most Stunning Wedding Venues
17 gorgeous Hudson Valley wedding venues.
12 of the Hudson Valleys Most Gorgeous Fall Wedding Venues
12 of the best Hudson Valley fall wedding venues.
6 Things You Must Consider Before You Have a Hudson Valley Barn Wedding
Six things to consider before you book a barn wedding.
More From WZAD-WCZX The Wolf