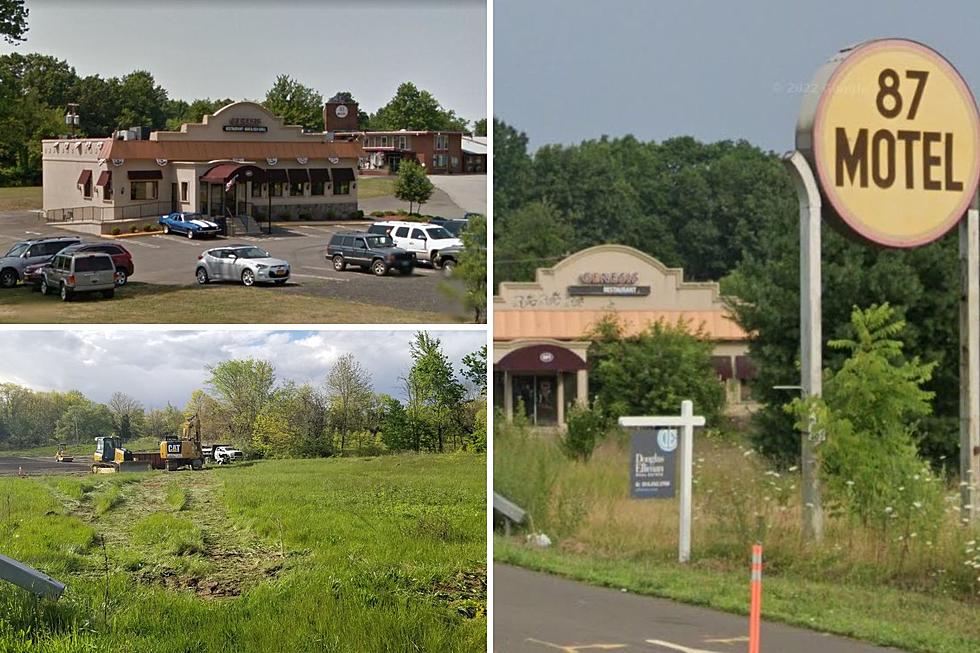 New Paltz Restaurant Closed for a Decade, Finally Torn Down
Canva / Google / PQ
If you have been around New Paltz for more than 11 years there is a chance that at some point you stayed at the 87 Motel and ate at the Genesis Restaurant. As of today both of those places are officially gone.
Driving through New Paltz this past Sunday I passed the Genesis Restaurant and thought boy that building has really fallen into disrepair. The landscaping was overgrown and the building was covered in graffiti. I thought why hasn't anyone done anything with this big piece of land that is located right off the New York State Thruway?
Genesis Restaurant Officially Torn Down in New Paltz, New York
Then today I traveled through town and saw that the build was gone. I remember when they took down the 87 Motel but I thought for sure someone would just renovate the old restaurant but obviously, I was wrong.
I haven't been able to keep up with all the rumors of what might end up on the property which is now clear down to the dirt. Many people have commented that they think apartments will go there and that they should be affordable housing. I am thinking who would want to live that close to the Thruway?
It would be great to see another restaurant or maybe a few shops. As far as I know, the property is still for sale. The real estate sign was still up today when I took the pictures of the land while the bulldozers were finishing up.
As for now, it appears that the land is still for sale so for anyone who might be speculating or hoping for something like a Trader Joe's or a Five Guys you are going to have to wait and see. It appears that the building was just taken down, not torn down to make room for something else.
Buy one of the Oldest Houses in New Paltz, New York
Own One Of the Oldest Houses in New York
Own not just a piece of Hudson Valley history but own a piece of American history. For the first time ever The Major Jacob Hasbrouck Jr. House in New Paltz, New York is being offered for sale. Up until now, it has only been occupied by the family, direct descendants of Major Hasbrouck.
Restaurants in the Hudson Valley Where You Want to Eat at the Bar
Hudson Valley Restaurants Where You'll Want to Eat at the Bar
Chances are your favorite Hudson Valley Restaurant in Kingston, Poughkeepsie, Newburgh, and beyond has an awesome bar. Next time you are at your favorite lunch or dinner spot consider a seat at the bar for your meal. I tried it once because the dining room was booked and now the restaurant bar for food and drinks is sometimes my preferred choice. Here a some of the ones I have discovered that you can enjoy.
More From WZAD-WCZX The Wolf