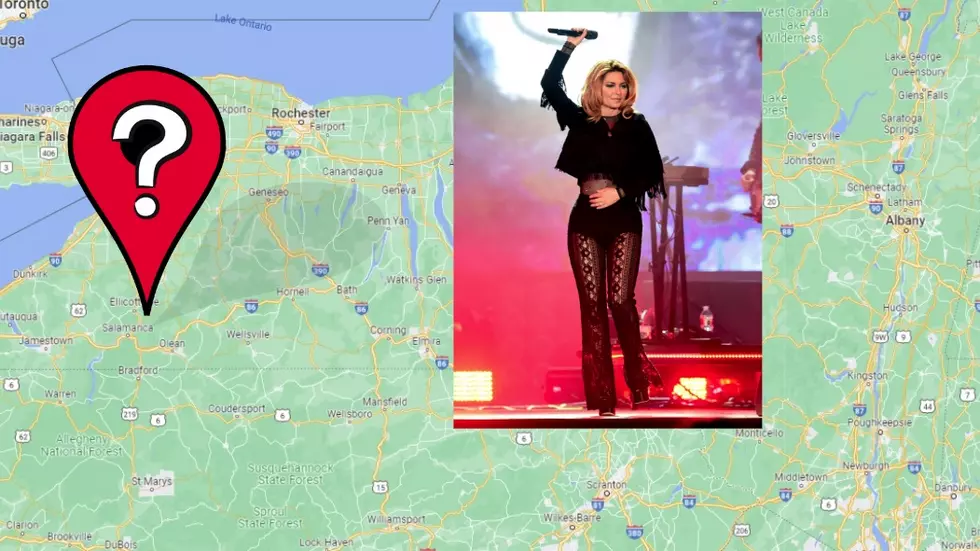 Did You Know Shania Twain Has Ties to Upstate, New York?
Getty Images/Google Maps/Canva
Upstate New York is the perfect escape for celebrities. They can easily hide out in the cabin in the woods or throw on a hat and sunglasses and become a local in no time.
We're used to it here in the Hudson Valley, but in the early 90s, it was probably less common. Speaking of which, apparently a country music superstar called the Adirondack's home for a short time.
Country Music Superstar in Upstate New York
Shania Twain announced that she'll be performing at Bethel Woods this summer and all week long we've been giving away tickets to the show. During one of our giveaways, a listener named Melissa called in and said she had a "fun fact" about Shania.
Melissa went on to tell us that Shania Twain actually live in Upstate, New York back in the 90s.
So we did some research and found that Shania apparently lived in the Santa Clara area of New York in Franklin County, near Saranac Lake. So yes, that is definitely considered Upstate New York...no argument there.
Demolishing at Dexter Lake Camp?
According to the Historic Saranac Lake Wiki, Shania and, her husband at the time, Robert "Mutt" Lange moved into a 3,000-acre-foot-four-story mansion in 1994 called Dexter Lake Camp. The Wiki page explains further:
In 1994 the Dexter house was in pristine condition, having been recently restored by the firm of Crawford and Stearns for the previous owners, when it was purchased and demolished the Dexter Lake Camp sales brochure, c. 1994. Courtesy of Mary Hotaling.same year by singer Shania Twain and her husband, Robert "Mutt" Lange, who built a huge, modern house and recording studio on the property. A few years after the new building was constructed, Twain put it on the market.
The Associated Press reported that while Twain and Lange lived in NY they "fought with the Adirondack Park Agency regarding the construction of buildings, including a studio, on the property."
The Future of Shania Twain in New York State
While things might have ended on a sour note with Shania and New York State, the future is positive and bright! Shania will hit the Bethel Woods stage with the Queen of Me Tour on July 3rd, 2023. Tickets go on sale for the general public on Friday, December 2nd at 10 am.
See Inside Shania Twain's Spectacular Beachfront Mansion
Shania Twain
owns a spectacular waterfront mansion in the Bahamas that offers plenty of time away from prying eyes.
The 5-bedroom, 6-bathroom, 7,000-square-foot mansion in the Bahamas is situated on a 1-acre lot that offers 150 feet of beachfront in the exclusive Old Fort Bay gated community in West Nassau. Its amenities include mahogany-lined walls and bookcases in the second-floor master suite, as well as spectacular ocean views.
The house also includes guest bedrooms with views of the beach and the canal, as well as a kitchen with a breakfast nook, butler's pantry and stainless steel appliances. That leads out to a covered outdoor patio and an access gate to the beach.
The luxury home's exterior amenities include a pool house with bathroom and shower facilities. There's also a guest apartment, a laundry room and a generator with an auto transfer switch. The property also offers the use of a dock slip that can accommodate a 40-foot boat.
Top 25 Shania Twain Songs — Her Biggest Hits and Best Deep Cuts
Shania Twain
's best songs changed country music in ways never imagined before 1995. The superstar's career as a charting recording artist lasted less than a decade and included few accolades (including just one CMA Award) relative to her commercial success, but few female artists under 40 will fail to name her as one of three major reasons they chase this country music dream for a living. Perhaps only Dolly Parton is listed more frequently as an influence.
This list of Shania Twain's best songs considers commercial success, cultural importance, legacy and song quality. Scroll through to see which of her songs is No. 1 and click on any link to listen.
Kelsea Ballerini Tributes Shania Twain at ACM Honors
Kelsea Ballerini
was on hand at the 2022 ACM Honors to celebrate
Shania Twain
, who took home the ACM Poet's Award. Ballerini recreated Twain's iconic music video for her 1999 hit, "Man, I Feel Like a Woman," on the Ryman Auditorium stage.
More From WZAD-WCZX The Wolf