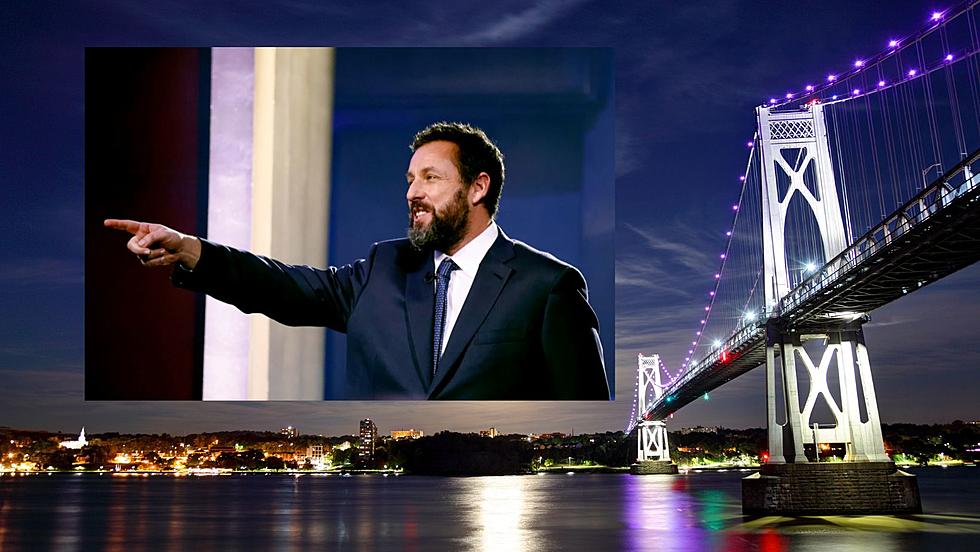 Adam Sandler Name Drops Poughkeepsie, NY in Award Winning Speech
Getty Images/ Canva
Did the Hudson Valley play a role in inspiring one of today's funniest comedians? Quite possibly!
Let us explain...
The Mark Twain Prize for American Humor
If you missed it, actor, writer, producer, and comedian Adam Sandler received the Mark Twain Prize for American Humor last week. I don't know about you, but I have never heard of this award, but apparently, they've been handing them out since 1998.
The ceremony was held at the Kennedy Center in Washington, DC on March 19th. At the ceremony held for Sandler, all of his comedy friends showed up. Chris Rock, Steve Buscemi, David Spade, Conan O'Brien, Drew Barrymore, Jennifer Anniston and more hit the stage and told their best Sandler stories.
Essentially, it turned into the Roast of Adam Sandler. But then as the roast came to an end, Sandler took the stage to share his thanks.
Adam Sandler's Hudson Valley Connection
I don't think we give Adam Sandler enough credit, he really is an excellent actor and storyteller. Sandler took his time on the stage to accept his Mark Twain Prize to thank those who gave him the confidence to go on and make his comedy dreams come true.
He literally went through and named everyone who has helped him in the process.
One of those people is Tim Herlihy. In his speech, Sandler explains Tim was his roommate at NYU and they got into a discussion about what they wanted to do with their lives. Tim said "I want to be a billionaire" while Adam said he wanted to be a comedian.
Herlihy asked to hear some of Sandler's jokes, but he didn't have any.
Sandler goes on to explain:
And then he asked me 'What are some of your jokes?' And I said I dont have any jokes. And then he went to Poughkeepsie to see his family, he came back and handed me three yellow pieces of paper with jokes on 'em.
This, according to Sandler, is when he and Herlihy became a team. Tim Herlihy has written and acted in several of Adam Sandlers films like Billy Madison,  The Wedding Singer, The Waterboy, Happy Gilmore, Big Daddy, and more.
So, I think it's safe to say if it wasn't for Poughkeepsie we wouldn't have the Adam Sandler we do today!
You can watch Adam Sandler's full acceptance speech below (you can hear the Poughkeepsie mention around 4 minutes and 30 seconds).
21 Places You Might Run into a Celebrity in The Hudson Valley
Hollywood on The Hudson is real! It seems like there's a new celebrity sighting in the Hudson Valley. Here are a few of the hot spots that you may run into a celeb while walking around town.
20 Must See TV Shows and Movies Made in Poughkeepsie, New York
Top 10 Best Adam Sandler Movies
Adam Sandler has been entertaining us since the early 90s with great movies. Let's take a look at what I believe are his top 10 best movies.
More From WZAD-WCZX The Wolf