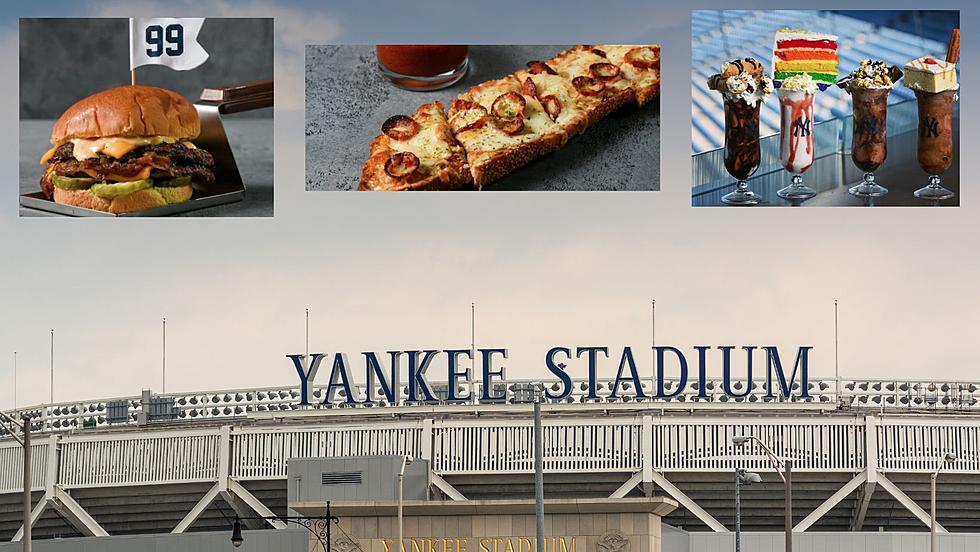 12 Foods That Knock it Out of the Park at Yankee Stadium For the 2023 Season
Canva/New York Yankees
Spring is here and there's something in the air. Ah, yes. It's the smell of baseball season!
While our favorite Major League Baseball players are getting ready for the 2023 season, fans are preparing to drop major coin at their favorite baseball stadiums. We're not talking just about tickets and merch, we're talking about stadium snacks too.
Personally, I'm fine with a bucket of chicken tenders, fries, and a beer. But if you're on the fancier side and want to enjoy fine dining at Yankee Stadium, you're in luck.
Just recently MLB.com released a list of new and returning foods to the Bronx for the 2023 season. And I have to tell you, it all looks phenomenal.
Yankee Stadium Limited Time Only Burgers
Yankee Stadium is honoring Aaron Judge the only way they know how...no not with a mural or a statue, but with a burger!
The 99 Burger is made up of two 4 oz. American Wagyu beef patties, cheese, a secret sauce, dill pickles, and the works. But what makes it really special is that Yankee Stadium will only be selling 99 burgers per game.
Things Are Getting Cheesy at Yankee Stadium
Along with The 99 Burger, Yankee Stadium is bringing in the Mac Truck (which has Upstate New York origins at the Saratoga Racetrack) and cheesy bread. This isn't your run-of-the-mill fast-food cheesy bread either.
Yankee Stadium teamed up with Bronx native and chef Christian Petroni who won Season 14 of Next Food Network Star on the Food Network and is now a regular judging competition shows like Chopped, Beat Bobby Flay, and Guy's Grocery Games.
Ready to drool?
Take a look at the 4 new menu items that will be offered at Yankee Stadium for the 2023 season and while you're here we figured we'd let you check out the veteran food products that have Yankee fans in a tizzy. Hello, Grand Slam Shakes!
12 Foods That Knock it Out of the Park at Yankee Stadium For the 2023 Season
Peep 4 new items and 8 returning classics that are on the Yankee Stadium food lineup for the 2023 season.
Hudson Valley Specialty Cocktails and Where to Find Them
Hudson Valley Cocktails never looked so good. Check out all the different specialty drinks we found for you to enjoy in Poughkeepsie, Kingston, New Paltz, Gardiner, Central Valley, Middletown, Newburgh, Highland, Milton, West Point, and Cornwall.
Must Try BBQ Places in the Hudson Valley, NY
BBQ is meant to be eaten year-round and the Hudson Valley has some pretty amazing places to grab your smokin' juicy favorites all year long. From pulled pork to piggy mac these places we found for you won't disappoint your tastebuds or your pocketbook. Pick out what looks the most delicious and start there but make sure you eventually get to every one of these Hudson Valley New York BBQ Joints.
More From WZAD-WCZX The Wolf