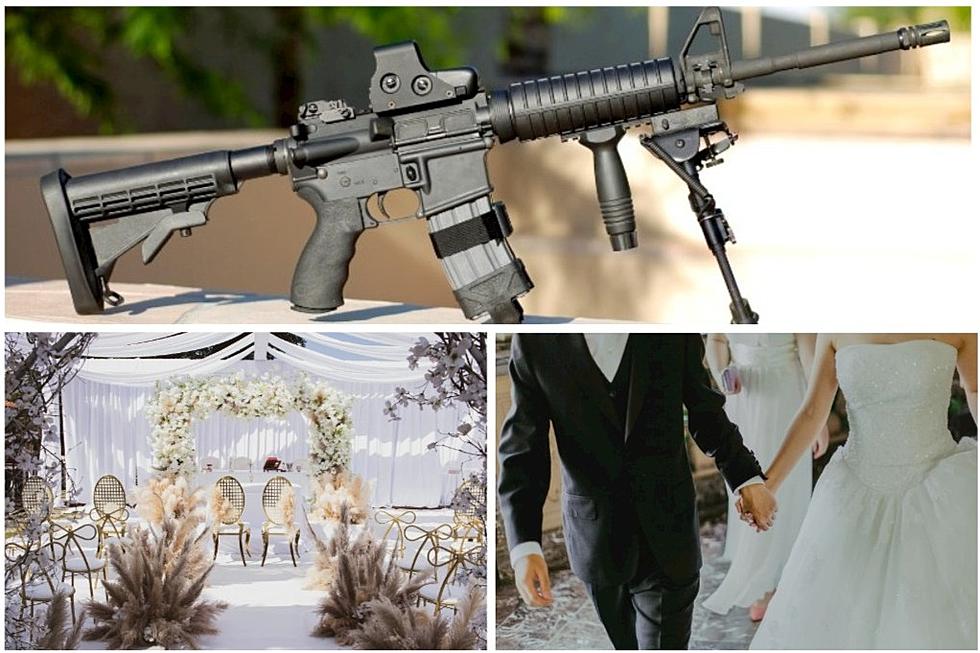 SP: Drunk Upstate New York Man Brought AR-15 To Wedding, Massacre Avoided
Canva
Wedding guests say they feared for their lives after another guest allegedly brought an AR-15 into the reception after being asked to leave the party.
On Tuesday, New York State Police from Troop D, Oneida arrested a man during a wedding reception.
Camillus Man Arrested on multiple felony weapon charges following an incident at wedding reception
On Saturday around 6:15 p.m., New York State Police responded to a residence on Stump Road, in the Town of Skaneateles, for a reported person with a weapon.
For all the news that the Hudson Valley is sharing make sure to follow Hudson Valley Post on Facebook, download the Hudson Valley Post Mobile
Arriving officers were flagged down by several people who restrained Christopher Kallfelz, age 46, from Camillus, New York.
Kallfelz and others were attending a wedding. He was restrained for allegedly bringing a loaded assault weapon to the reception following a dispute.
SP: Drunk Wedding Guest Touches Women, Gets Into Many Altercations
Kallfelz and over 150 people attended the wedding. He got very drunk and got inot a number of verbal and physical altercations throughout the afternoon wedding receptions, police say.
He's also accused of forcibly touching four women wedding guests, according to New York State Police.
Because of his alleged actions, he was asked to leave the wedding.
Onondaga County Man Brings Loaded AR-15 Rifle To Wedding, Police
Kallfelz did leave the wedding, but he returned to the Stump Road address with an Anderson AM-15 assault rifle, police say.
"Kallfelz proceeded to walk up the driveway in an aggressive manner inserting a 30-round magazine loaded with 5.56 ammunition into his assault weapon and cycling the bolt action," New York State Police said in a press release. "Members of the wedding felt threatened and became fearful that Mr. Kallfelz was preparing to shoot and kill the attendees of the wedding."
Thankfully he was disarmed by many wedding attendees and police were called.
The defendant was disarmed and secured by several attendees while police were contacted.
Kallfelz was arrested for the following charges:
(2) counts of Criminal Possession of a Weapon 3rd degree, class "D" felony
(1) count of Making a Terroristic Threat, class "D" felony
(4) counts of Forcible Touching, class "A" misdemeanor
(1) count of Aggravated DWI, unclassified misdemeanor
Kallfelz was then lodged at the Onondaga County Justice Center pending central arraignment.
The 10 Best Counties To Live In New York State
Is your hometown's county considered by
Niche
one of the best in New York State?
If You See Purple Paint in New York You Need To Leave Right Away
Do you know what to do if you see purple paint in New York State? The easiest advice, run. Here's why.
20 Worst Places to Live in New York State
A list highlights the worst places a New York resident can call home. A number of places in the Hudson Valley made the list, including one that was ranked the worst place to live.
Giant Horror Plant
A "giant horror plant" that can cause blindness and severe burns is still in New York State, despite the best efforts from New York officials.
More From WZAD-WCZX The Wolf