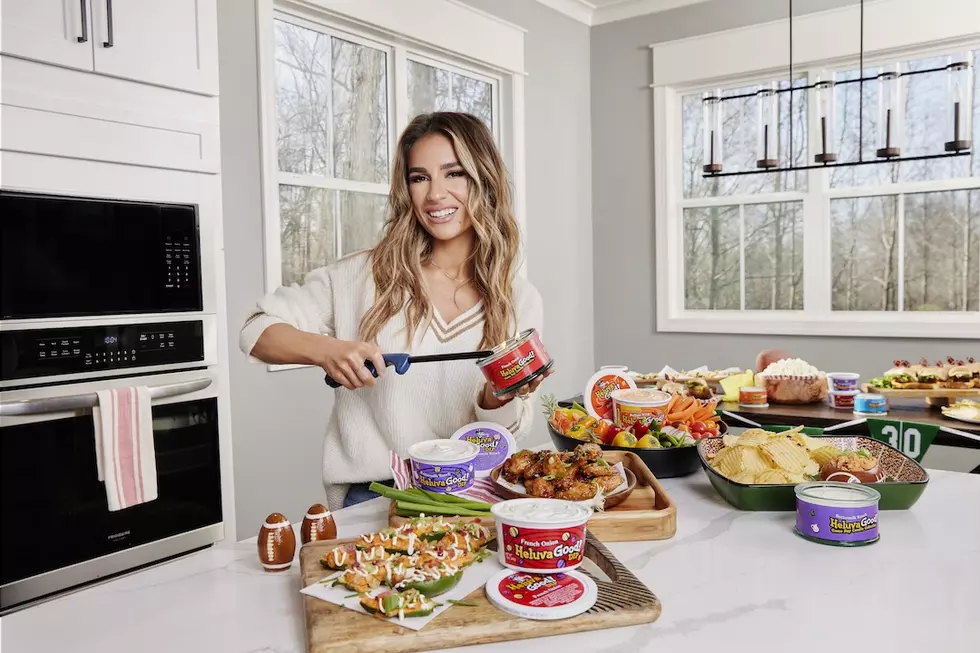 Jessie James Decker Gears Up for Super Bowl With Dip-Scented Candles, a DIY Pepsi Ad
Diana King
The countdown is on for the Kansas City Chiefs to face off against the Philadelphia Eagles in the Super Bowl, and Jessie James Decker is busily preparing for the big game: She's got the snacks department covered with a new partnership with Heluva Good! Dips, including a line of scented candles that smell just like classic game day foods.
"Honestly, all day I've been kinda tripped out because it smells identical to the dip," Decker tells Taste of Country over video chat, holding up one of the new candles. The line features scents like Buttermilk Ranch, Buffalo Wing, Potato Chip and — Decker's favorite — French Onion.
"It's confusing because you wanna eat the candle but you can't," the singer jokes. "So I think it's cool, 'cause you can light it when people come to your house and it already smells like food. So it gets everyone really excited and hyped up about the dip."
Of course, Decker comes from an avid football family — her husband, Eric Decker, is former NFL wide receiver — and if she, her husband and three kids aren't attending the big game in person, they'll be hosting a Super Bowl watch party.
"I usually have people over, because we've got a bigger living room so we can hold a lot of people in there," she explains. "Most of the time we're at the Super Bowl or at Super Bowl parties doing some sort of event. But if we're not, we're definitely having everybody over, and it's just so much fun."
Almost as iconic as the game itself are the blockbuster, high-production-value commercials that air each year during the Super Bowl broadcast. This year, Decker got a head start on the football festivities by filming a DIY Super Bowl ad of her own, in the style of the classic Pepsi commercials from the '90s.
"I was on tour with Kane Brown and we had some free time backstage," she says, explaining how it all went down. "My outfit and the background were all the same colors [as the ones used in the ads], and we had Pepsi stashed in the fridge. I was like, 'Oh my God, this looks like a Pepsi commercial. Let's make one for fun.'"
She even just so happened to have the perfect audio to use for the clip.
"I had submitted this Pepsi commercial song years ago. I don't even know if it ever made it to them," the singer recounts. "I mean, it was like being 15 and making your own music video. We just did it for fun."
But their goof-off session yielded some unexpected results, which Decker says just might lead to a future partnership with the soda brand.
"I mean, Pepsi reached out!" she shares. "So it's kinda working."
See Which Country Stars Put on Pads to Play Football:
More From WZAD-WCZX The Wolf