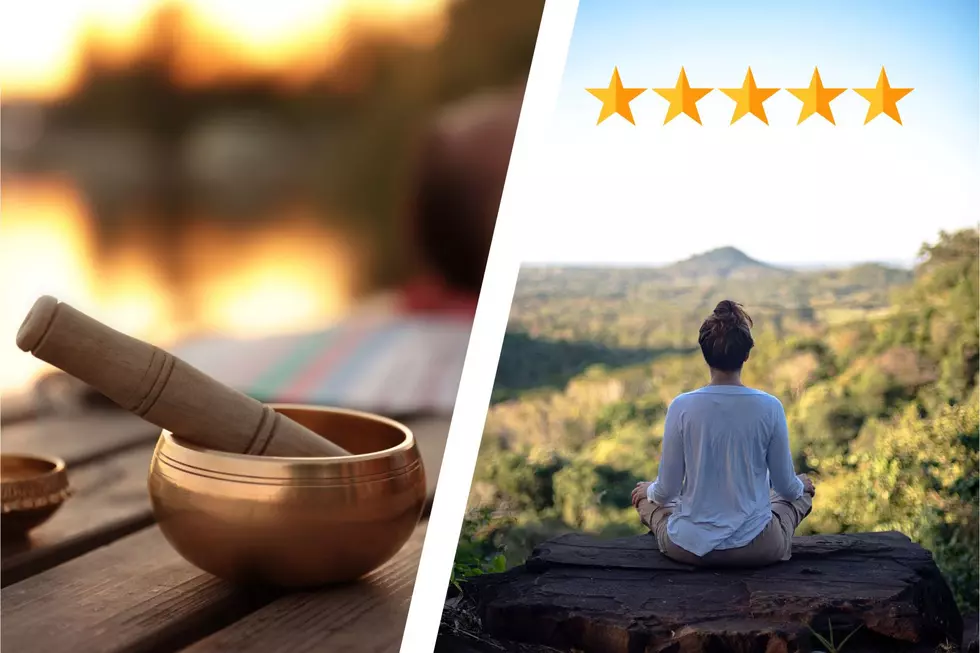 Healing Retreat Set to Take Place at "Award Winning" Hudson Valley Oasis
Canva
When was the last time that you did something for yourself that felt good? This would be a hard question to ask yourself at times.
In this busy world, it's hard to shut off and wind down. Finding time for ourselves is essential and vital to our health.
A healing retreat is set to take place at an "Award Winning" Hudson Valley oasis.
The benefits of attending a retreat are endless. Not only do they help us unwind, de-stress, feel rejuvenated and create peace, but we can learn valuable skills on how to continue this into our daily lives.
"Changes" is a unique retreat that will happen in the beautiful Catskills.
Hudson Valley natives can all agree that there's no place like home. From historic sites and mansions to views of the Hudson River and local streams, it's truly magical.
The Hudson Valley is home to nature lovers, city commuters, history buffs, and more.
There are picture-perfect scenes of farms with green rolling hills with cows and red barns all throughout New York state. Each county has a cute, quaint town or village filled with charm and character.
Each season has beautiful views in the Hudson Valley. With the change of season, this one-of-a-kind retreat will help those attending embrace all that they have to offer going forward.
This "high vibe" retreat will take place at the popular, Copperhead Retreat and Spa.
When are we not looking for a way to unwind? For myself, this is something that I do every day.
During this retreat, there are numerous options and ways to take the load off. Whether you choose to attend a yoga session, take a hike, swim in the heated pool and or relax in the hot tub, there's something for everyone. The sauna is calling my name.
At night, guests can enjoy the fire pit and stargazing.
Holistic healing options are available for those who attend this magical retreat.
Those who attend can expect to experience the relief of removing stuck energy from their space and body, renewing and healing themselves.
When will this retreat take place?
"Changes" will take place in the Catskills on Columbus Day weekend, October 7, 2022- October 10, 2022. There will be day, overnight and weekend passes available.
What healing practitioners will be at this retreat in the Catskills?
There will be several practitioners offering private one on one sessions. There will be 14 classes/workshops with 10 practitioners on site.
A variety of practitioners are set to help those who attend on different levels of care.
Those who want to experience Qigong, Reiki, energy clearings, yoga and more are welcome to attend.
Crystal sound healing, massage therapy and more options will be available.
Tim Arculli, Outer Limits Qigong (OLS) Founder and Qigong teacher is hosting this unique retreat and will also be offering his healing sessions.
Other talented healing practitioners such as Angela Rae Hassan and Jenese Hernandez will be providing their healing work to guests who attend the retreat.
A trained chef and reiki master, James Simonetti will be serving fresh and seasonal meals.
This "Award Winning" hotspot has been providing guests with healing and pampering for years.
Copperhead Retreat and Spa has been helping guests relax, restore and heal for over 36 years. Being in the heart of the Catskill Mountains, those who visit can soak up the beautiful views and greenery of the 32-acre private island.
There are also other charming towns to visit nearby such as Phoenicia, Woodstock and Tannersville.
There are also adorable alpacas on site.
Booking info or questions can be answered by the host, Tim Arculli via email or by phone, 973 703 8164.
Have you ever attended a retreat? What was your experience like? Share with us below.
16 of Upstate New York's Best Adirondack and Catskill Mountain Diners
There are well over 100 diners spread all over Upstate New York. For those of us who live "close" you just can't beat the diners you will find when traveling Upstate's mountain regions: the Adirondacks and the Catskills.
Here are 16 little diners in these mountains that are worth keeping your eye out for when your stomach rumbles.
(Note: "A" denotes Adirondacks; (C) denotes Catskills)
Small On The Map. Big On The Fun! The 10 Best Small Towns in Upstate New York
Chuck D'Imperio has written books that cover a whole range of Upstate New York topics including the famous foods of Upstate New York, the graves of many famous people buried in the region, a chronicle of many of the well-known (and off the grid) homes in the state, a book that tells the story of the smaller unknown museums of the region, and several more. Because of his extensive travels over the last ten years, he has listed his ten favorite small towns that he likes to stop and visit at, explore, and relax in, during his many miles on the backroads and byways of Upstate New York.
More From WZAD-WCZX The Wolf