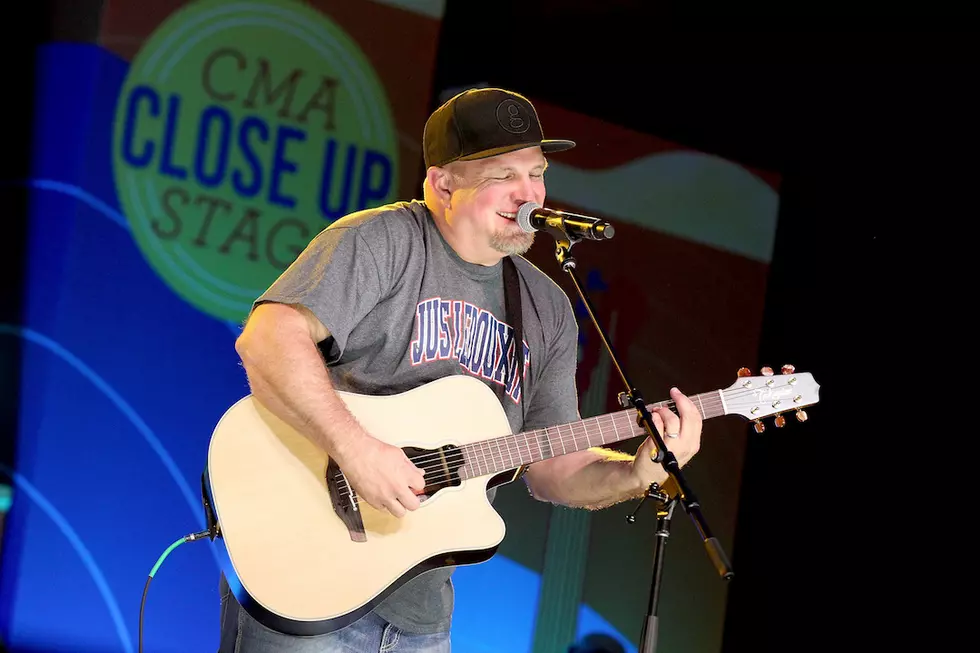 Garth Brooks Is 'The Good Kind' of Nervous to Play Notre Dame Stadium
Terry Wyatt, Getty Images
Garth Brooks announced plans for a three-year stadium tour, set to kick off in 2019, on Wednesday (Oct. 17), and the country superstar explained during a press conference that day that his fast-approaching Notre Dame Stadium performance will serve as a "blueprint" for the shows to come. As his performance at Notre Dame, which will take place on Saturday (Oct. 20), draws closer, Brooks admits that, even as a veteran performer, he's feeling some pre-show jitters.
"I'm scared to death to play stadiums," Brooks says. "I was scared to death to get out of honky-tonks, because I thought the arenas were too big. Now the stadiums kind of scare [me], because [I was] comfortable in arenas. You're always scared to death that people aren't gonna show up, and then when they do, you're scared because they did show up. But it's the good kind of scared."
Playing to a stadium full 80,000-90,000 people is largely uncharted territory, even for Brooks. "I know we have stadium tours, I know it, but I also know that the stadium gets cut in half," he goes on to say. "You end up playing to enough people to fill an arena and a half, or maybe two arenas, on stadium tours. Guys like the Rolling Stones or U2, who play [to the full stadium], that's a big ask, for an artist to ask that many people to show up. But man, the whole hope and thought is to turn that arena into a honky-tonk."
So few artists have performed to such a large audience, in fact, that Brooks has had to look beyond the country world for hints as to what to expect. "I feel like you have to look to more of the people who've played the full 360 degrees, which'll be more of the pop world," he adds."But even then, their audience is different from ours."
The country superstar goes on to say that as he goes into the Notre Dame show, he's banking on applying all the lessons he's learned from performing in arenas. "Because when we went from honky-tonks to arenas, we were scared, but we used all the stuff we learned in honky-tonks," he says. "Some of it worked, some of it didn't. But I'm looking forward to learning. I've gotten to do this for a while. So any time I come offstage and I get to learn, that makes a great day for me."
Brooks and his team are experimenting with technology to enhance the experience of every audience member in the crowd, including new graphics and four massive video screens. Still, especially at his Notre Dame performance, the singer says the focus will be very much on the music.
"We're gonna introduce a thing called Music 101," he continues, explaining a new program where, in keeping with the collegiate theme, he will include songs by artists who inspired his own music, those he feels young country fans should discover. "It's gonna be fun to play other people's music for them, and make sure that while we're there and have their attention ... [we show them] some of the greatest artists in life so that they never forget them, and so that they know how much of an influence they were on our music.
"Notre Dame will be really, really focused on the music," he adds. "The Music 101 at Notre Dame might be the best one of all over the next three years."
Brooks knows that his performance at Notre Dame will be a new experience, one that he hopes to build upon as he embarks on the 2019 tour. "My hope and my prayer -- and this is said with all kinds of love for Notre Dame -- but my hope and prayer is that Notre Dame is the worst show of the tour and it just gets better and better," he adds. "And I hope Notre Dame rocks.
"I think the challenge is to just do the best we can and blow it out of the water at Notre Dame," Brooks says, "and then make that what we beat every time we go out."
Garth Brooks' Best Live Shots
Test Your Garth Brooks Knowledge!
More From WZAD-WCZX The Wolf