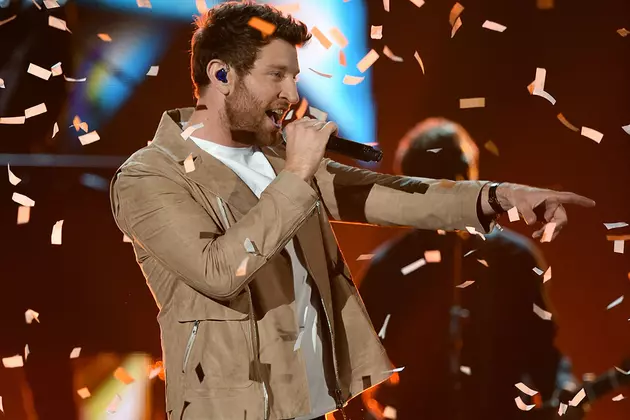 Brett Eldredge Celebrates Sixth Consecutive No. 1, 'Wanna Be That Song'
Ethan Miller, Getty Images
Brett Eldredge honored his latest No. 1 hit "Wanna Be That Song" at the Back Corner in Nashville on Wednesday (April 5) alongside co-writers Ross Copperman and Scooter Carusoe.
His sixth consecutive No. 1 hit, "Wanna Be That Song" is also the third consecutive hit off Eldredge's album Illinois. Prior to the party, the singer told Taste of Country and other media that this song is particularly special to him.
"This is one's extra special because it's about being a part in the soundtrack of somebody's life. It's about all the songs that led to this one," he explains, saying it reflects what he hopes to accomplish as a songwriter and musician. "I want to be a part of someone's story, I want to be a part of a moment in their life that they look back and rewind the years it takes them back to that special place."
Eldredge revealed that the song's title randomly came to him just as he was about to take the stage at the Kansas Speedway pre-race concert. He turned to Carusoe and said, "I want to write a song called 'Wanna Be That Song.'" The three writers revisited the idea, which ended up turning into a really natural writing process.
"We all just meshed this together and really shaped it. With the way Scooter shapes lyrics and the way Ross helps ring in the whole musical picture, I think it was just a magical connection between all of us," Eldredge adds.
At the party celebrating the hit, each of the writers and producers were given a bottle of artisan wine in honor of the occasion, in addition to kind words from representatives at Sony/ATV, ASCAP and BMI. John Esposito — chairman and CEO of Eldredge's record label Warner Music Nashville — dubbed the star a "Sinatra incarnate" and described how the roughly 18,000 people that came to Luke Bryan's show at Madison Square Garden sang "every single word of every song" Eldredge performed that night.
"From the moment I heard the voice ... I wanted nothing other than to be in business with Brett," Esposito says. "Wanna Be That Song" clearly connected with fans in a special way, something that Eldredge is still trying to wrap his head around.
"It's so crazy to connect with people on that level of music, but I think it's just it was one of those lyrics that's nostalgic, and we all love nostalgia because that makes us who we are. This song's definitely made me who I am as an artist for sure," the singer says.
Brett Eldredge Among Best Dressed at 2017 ACM Awards
Watch Brett Eldredge Sing "Sure Feels Good to Love Someone"
More From WZAD-WCZX The Wolf