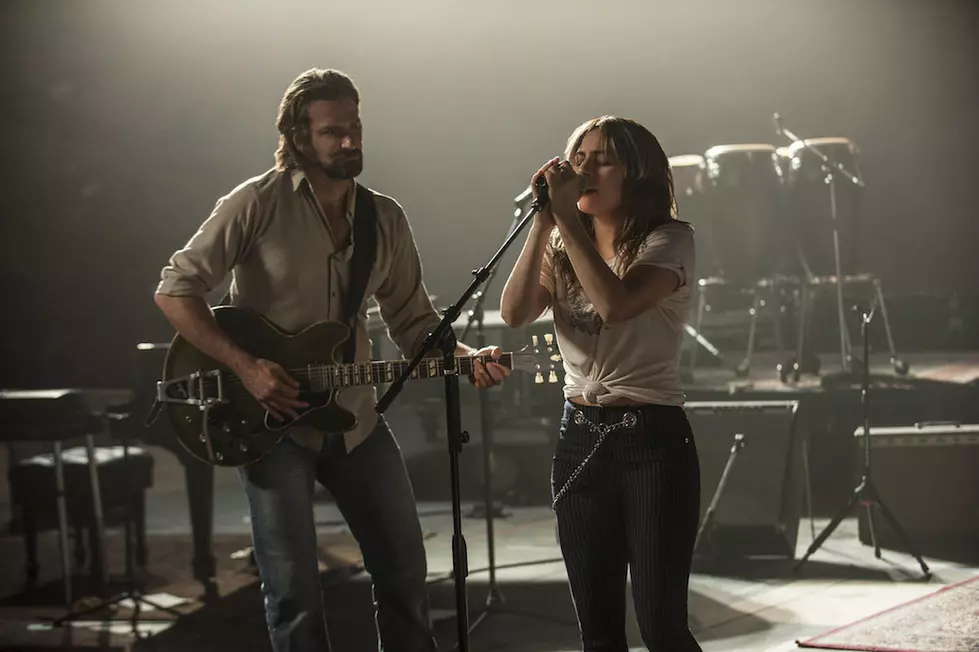 Lady Gaga Sings With Bradley Cooper in First 'A Star is Born' Photo
Warner Bros.
Stefani Germanotta, better known to the world as Lady Gaga, decided to try out the title of triple threat when she entered Hollywood back in 2013. With minor roles in Machete Kills and Sin City: A Dame to Kill For, it was hard to tell just how serious we were supposed to take Gaga's acting career. Then she went and won a Golden Globe last year for her vampiric role in American Horror Story: Hotel. With next year's A Star is Born remake, she'll have the perfect opportunity to show off her acting skills on the big screen while doing what she does best: sing.
Today Warner Bros. released the first official photo of the Bradley Cooper directorial debut. The still finds a very dressed-down Gaga — who's being credited by her real name on the project — singing on stage beside director-star Cooper, donning a beard and guitar. The studio also released the official synopsis:
Cooper plays Jackson Maine, a country music star who is on the brink of decline when he discovers a talented unknown named Ally (Germanotta). As the two begin a passionate love affair, Jack coaxes Ally into the spotlight, catapulting her to stardom. But as Ally's career quickly eclipses his own, Jack finds it increasingly hard to handle his fading glory.
The fourth iteration of the classic story has been a long time coming, originally with Clint Eastwood on board as director and Beyonce and Leonardo DiCaprio attached to star. The original 1937 film starred Janet Gaynor and Fredric March and followed the story of an aspiring actress. George Cukor's 1954 remake starred Judy Garland and James Mason, and the 1976 version cast Barbara Streisand as an aspiring singer in the music business falling for Kris Kristofferson's rock star. The biggest change in Cooper version so far is the transition to the country music industry. The press release also confirmed Andrew Dice Clay's casting, who was rumored to play Gaga's father, as well as Sam Elliott.
Filming kicks off for the project this week and will find the pop star and actor-director shooting scenes for the movie at Coachella. Gaga announced the news on the music festival's app and invited her fans to watch her and Cooper throw a series of country music concerts. The singer has also written and composed the music for the upcoming film, so we're bound to get a sneak peek at the new songs when fan videos start leaking out of Coachella this week. A Star is Born hits theaters September 28, 2018.
More From WZAD-WCZX The Wolf